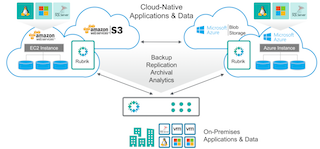 Your Rubrik for the Cloud
April 25, 2017
Rubrik has announced their latest revision of their Cloud Data Management solution, version 3.2. The new release has some "Snazzy" new features according to one unnamed source from the Rubrik technical marketing team, but I'm focused mainly on one specific capability in this post.
I've written about Rubrik several times before and have written some of the vRealize Orchestrator workflows for automating deployments with the Rubrik appliance. The main reason I like the solution is how easy it is to manage and that everything is API first, which is a must for automation these days.
The latest version added another cool capability for cloud workloads. This one being, a cloud instance. Yes, version 3.2 is ready to have a Rubrik cluster deployed in either AWS or Azure. In previous versions, Rubrik has allowed you to archive your data to AWS S3 buckets or Azure blob storage accounts which is a really nice way to extend how long your backup appliance can store data. Let's face it, backup appliances have finite storage, but being able to use cloud storage to augment the appliance storage can really help to make your backup solution more cost effective. Why buy more appliances and all their features, just for more disk space?
What Do I Need to Get Started?
Rubrik has had a remote office, branch office (ROBO) appliance for a while called "Rubrik Edge", which lets you place a virtual appliance in a smaller branch office to do some basic backups and then replicate that data back to the corporate office where your big boy Rubrik Cluster lives. It really saves some customers who have ROBOs that have trouble backing up over the WAN.
Think of the new Cloud Rubrik appliance just like the edge only here you'll be deploying a minimum of 4 EC2 instances (for AWS) or 4 Azure VMs (for Microsoft Azure) as a Rubrik cluster. Having four instances allows the cluster to perform erasure coding and provide the necessary data availability and integrity you'd be accustomed to of any enterprise backup solution.
Why is a Rubrik Cluster Deployed in a Public Cloud so Useful?
Big whoop right? Rubrik took their virtual backup appliance and shoved it in AWS and Azure. Is that really such a big deal? Well, maybe this wasn't the most difficult of technological feats, but the applications you might use it for are pretty nice. Lets take a few use cases.
The biggest one I see is that now I can have my backup array close to my data. I can backup any SQL, Windows or Linux workloads in the public cloud and never have the data leave traverse a WAN link. Cloud providers are notorious for billing outgoing network traffic, so this could be a big deal. You'll need to do some math to see if it pays for having the four Rubrik instances or not.
If we do want to replicate our public cloud backups, we can do that just like we might have with the Rubrik Edge appliance. But thanks to another new feature in this release, we can replicate to multiple targets. Meaning, my Azure backups could be replicated to AWS and on-prem for the ultimate in copy data redundancy. OK, maybe this sounds overly redundant, but some customers will have this requirement and this might be a really nice way to migrate workloads between clouds, regions or accounts.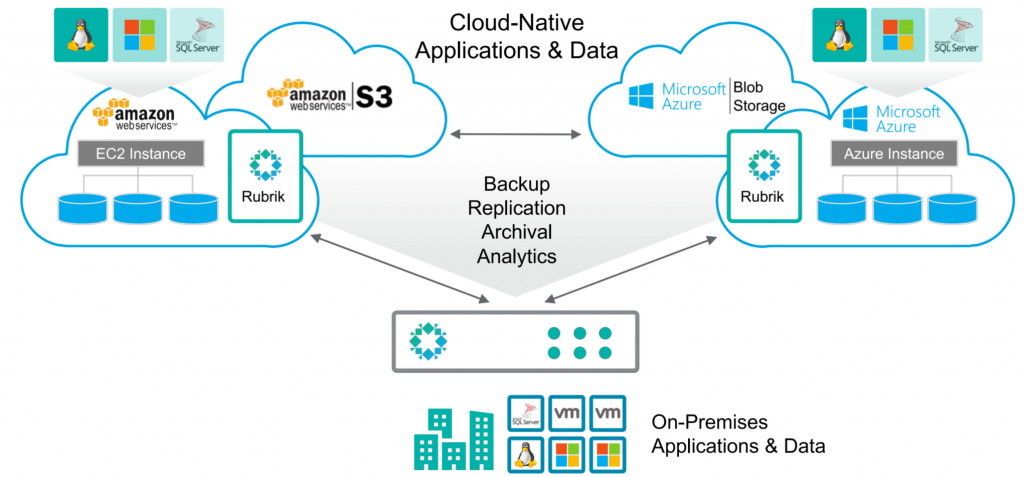 Reading the Tea Leaves.
The new features are certainly useful in some cases, but one does have to speculate about what might come next for Rubrik. I have no more information about this than you do, but currently this new Rubrik cloud instance can only backup SQL, Windows or Linux endpoints. I'm wondering if EC2 instances or Azure VM instance backups are in the future. It would sure be nice to backup and restore an entire cloud instance with one of these appliances, down the road, wouldn't it? I wonder if Rubrik is thinking the same thing? (ANY RUBRIK EMPLOYEES ARE FREE TO TELL US ROADMAP DETAILS IN THE COMMENTS!)
Other Enhancements in 3.2
I get excited about cloud, but Rubrik did have a few other enhancements which I've ignored in this post. If you're interested, here is a bulleted list of enhancements beside cloud the new cloud instance.
Multi-Target Replication
Setting Cluster Time Zones
Support for External Encryption Key Managers
Retention times can be set for Local, Remote and Archival data independently
Assigning SLAs to On-Demand Snapshots