VMware 5.5 Upgrade Tips
September 24, 2013
vSphere 5.5 went GA on Sept 22nd 2013.  If you're ready to upgrade your home or work environment, here are some suggestions:
Upgrade order
1.  Take a Backup!  You want to have a backup of your vCenter database in case the unthinkable happens.  You will probably want to backup your SSL certificate folder as well.  It can be located here:  %ALLUSERSPROFILE%VMWareVMware VirtualCenter
It may also be worth your time to save an updated host profile so that you can re-apply it if needed after your upgrade.  Perhaps your host upgrade fails and you re-install from scratch.  Now you've got all your configs that can be re-applied quickly.
2.   vCenter.  Upgrade your vCenter first.  vCenter 5.5 can manage older ESXi hosts, so it makes sense to install this first.  This way if it takes more time to get your hosts updated, it's ok.  vCenter can manage your 5.5 hosts and your 5.x hosts.
I've never been a fan of the "Simple Install" because I'd like to see what is happening.  This is especially useful if there are errors.  The 5.5 vCenter installer will show you the correct order to install the components in.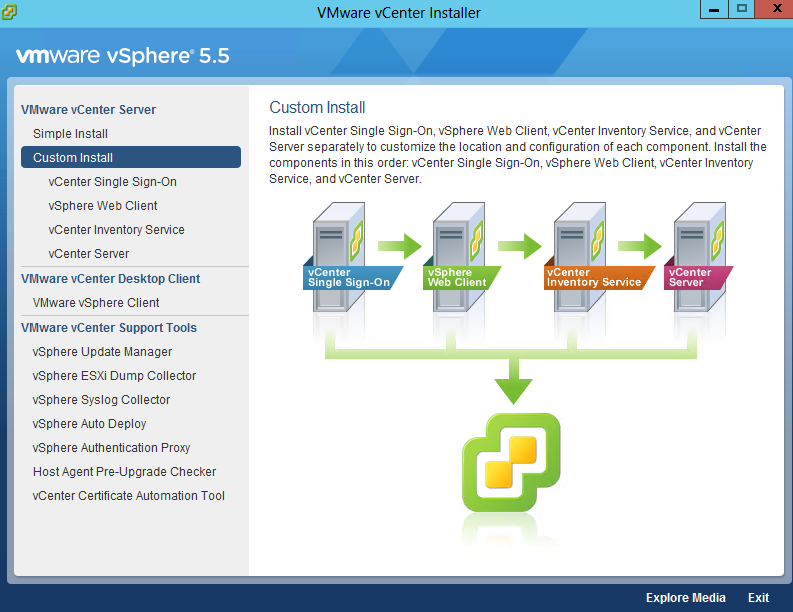 So you must install SSO –> Web Client –> Inventory Service –> vCenter Server
After this is complete, you can update the vSphere client (not necessary as now you'll likely be using the Web Client) and the Support tools.  If you are going to upgrade your hosts via Update Manager, you'll need to install this, and I highly recommend installing the Host Agent Pre-Upgrade Checker.  There is nothing worse than finding out in the middle of an install that their is something wrong.  VMware gives you the Upgrade Checker so please USE IT!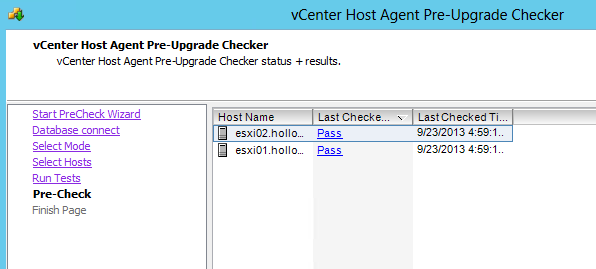 3.  Upgrade your ESXi hosts.  This can be done from Update Manager, AutoDeploy, or a rebuild of the hosts, but one way or another you're going to upgrade your hosts to 5.5
4.  Upgrade your Distributed Switches to the latest version.
5.  Upgrade your VMware Tools.  I prefer to leave this to be updated during the next reboot.  Since the VMs must be turned off to apply this update, I have always done it during a "patch" window to avoid multiple reboots.

6.  Upgrade the virtual machine hardware to take advantage of all the new stuff!
7.  Make sure to update your documentation, change management logs etc.