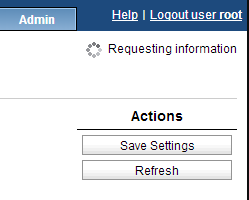 Trouble Configuring the vCAC appliance
July 28, 2014
I thought it was necessary to get this post out.  I've heard numerous people say that they've tried to install VMware's vCloud Automation Center (vCAC) but for one reason or another it just didn't seem to work.  I myself recently installed this and had issues, but somehow got it to install correctly on the third try.  If you've had trouble configuring the vCAC appliance then look for the tip below.
What I found out recently, was that during the install process if you see the little circle spinning in the corner.  DO NOT DO ANYTHING!!!!  In the screenshot below, you'll see the spinning circle with the "requesting information" label next to it.  If you see this thing spinning, don't touch anything in the window.  Don't click any tabs!  Don't click any buttons! Don't click in any empty or populated text boxes!  Don't click on anything.  If you do, you'll run the risk of invalidating the configuration.  If that happens, don't try to fix it, just deploy a new OVF and start over.  It will be faster.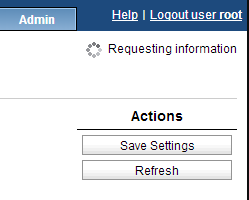 Just to walk through the rest of the process, we'll see the additional screens and setup info.
Configuration
Go to the Host Settings.  Click on the Resolve Host Name Button.
Warning!!! When you load this page, the spinning wheel might appear while trying  to load the page information.  Do NOT click on any of the buttons until it goes away.

Once you click the Resolve host name, you may see the spinning wheel of doom again.  Wait until it resolves your host name before continuing.

Next click on the SSL Tab.  You may see the death wheel again so be patient.   Choose your certificate action, enter your certificate information and then click the replace certificate.
WARNING!!! Don't move on to the next tab until this has completed and you can see that the "SSL Certificate is replaced Successfully" message.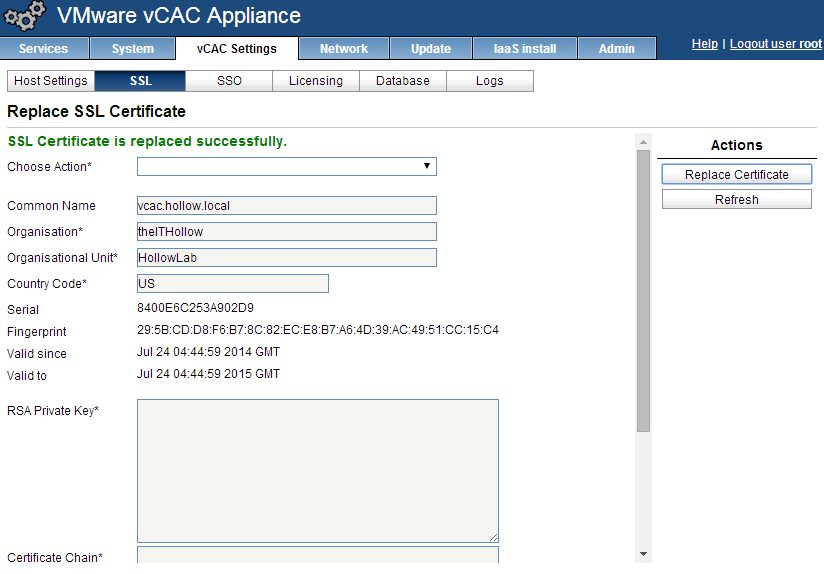 Click the SSO Tab.  Enter your SSO settings here and click save settings.
WARNING!!!!  Yeah, you get it, make sure before you click into anything or switch between tabs that the wheel of misfortune is not still spinning.

The SSO Page should look similar to this after setting up SSO.  I would like to mention that there is an Identity appliance that can be downloaded with vCAC, but you can use your own vSphere SSO appliance if you'd like.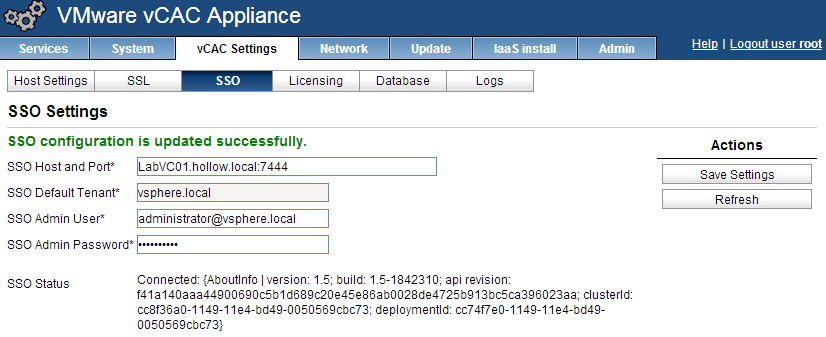 Click the Licensing tab.
WARNING!!!! This is the tab that I messed up on.  When you first open this tab, the "broken wheel" starts spinning.  I assume it looks for a license when you open the tab.  Wait until this completes until you enter your license key.


If all goes well, then you should be able to login to your vCAC appliance after the setup.

Summary
I don't remember if I said it previously or not, but please don't click on ANYTHING until the spinning wheel stops turning.  I mean it.   Hopefully this is fixed in a future version of vCAC, but until then I hope this post saves people a lot of trouble.  I know that I was kicking myself trying to figure out why I couldn't get things working and now I know.