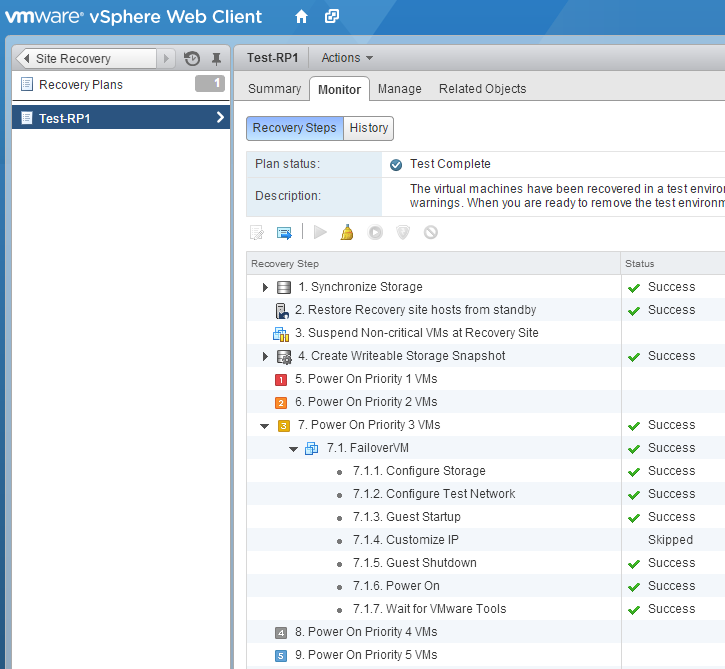 SRM 5.8 Test Recovery
January 5, 2015
"Your disaster recovery plan is only as good as it's last test."
"If you haven't tested your DR plan, then you don't have a DR plan."
These are all statements I've heard in the industry from CIOs and directors, and lucky for us VMware Site Recovery Manager has a test functionality built in for us to leverage without fear of affecting our production workloads.
Run a Test
Open up one of your recovery plans and click the monitor tab.  Here you'll have several buttons to choose from as well as seeing the list of recovery steps.   To run a "Test" recovery click the green arrow button.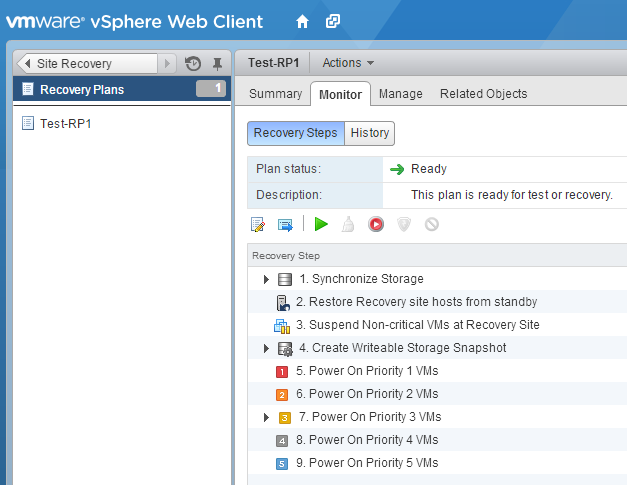 Once you've begun the test process, you'll be prompted about whether or not you want to run one additional replication to the DR site.  You'll have to decide what you're testing here.  If it's a disaster test, then you probably don't want to run an additional replication because you can't hold off your disaster until you replicate one more time.  If you're test is for a planned datacenter migration then maybe this is applicable to you.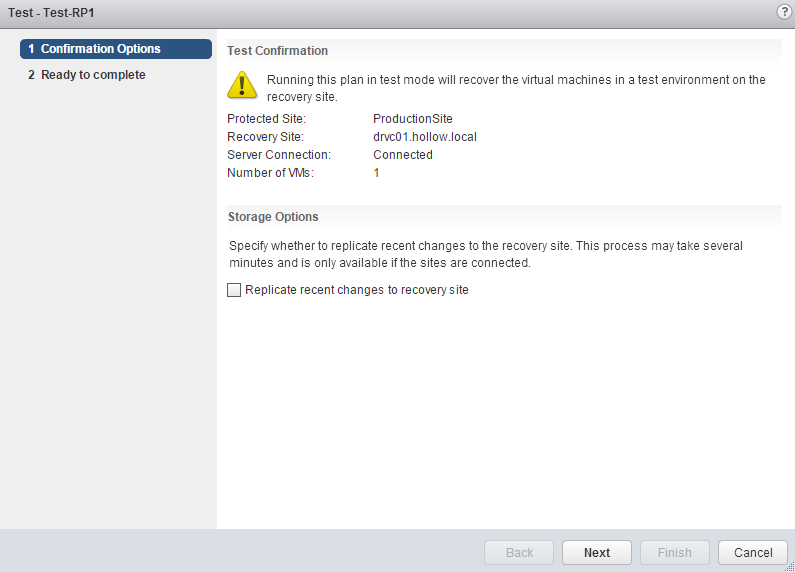 Review your test settings and click Finish.  Once the test starts, it will create a snapshot of the storage at the DR site so that replication can continue in the background while the test is run.  It may also create some new virtual switches if you're running an isolated test.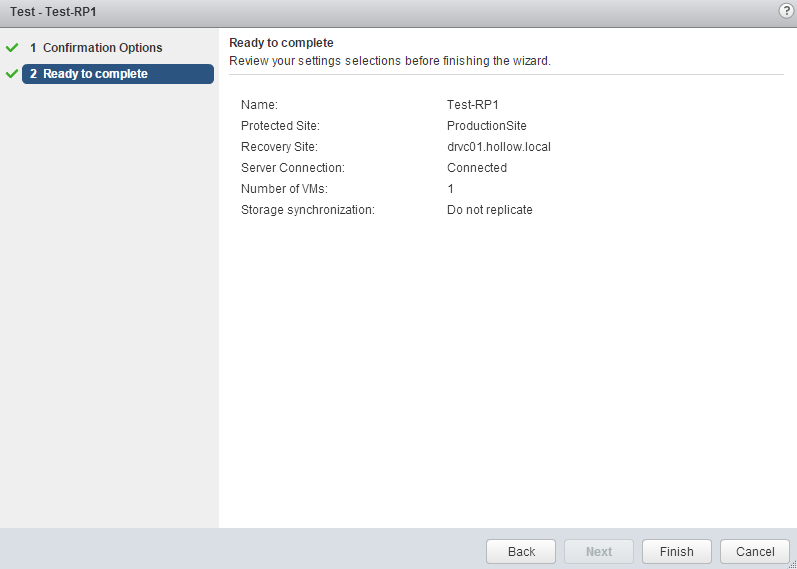 During the test, you'll be able to monitor the recovery plan every step of the way.  If you encounter a failure, you'll know what step failed and you'll be able to fix it and try again.  Assuming everything goes as planed, you'll get a "Test Complete" message with a check mark.  Once the test is complete you can login to some of your virtual machines to ensure things are how you expect them to be after a failover.  When you're ready to finish the test, click the broom icon in the recovery plan menu.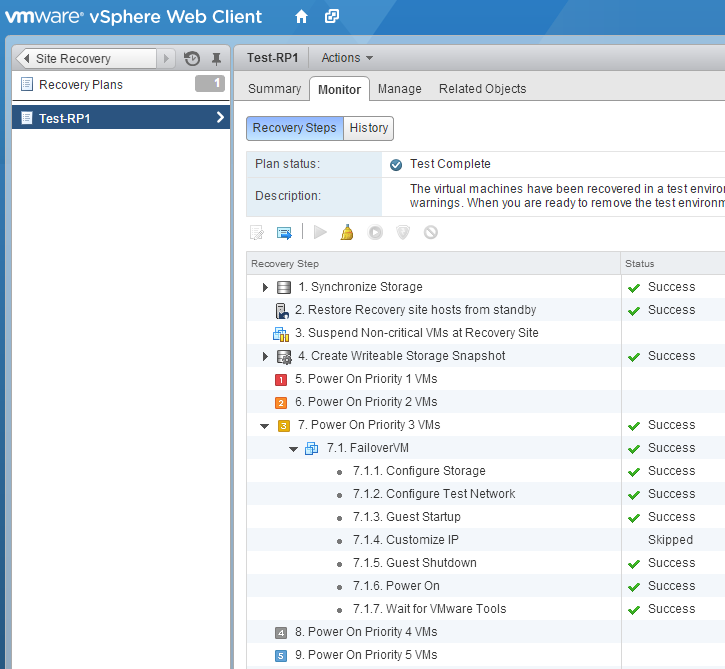 When you click the cleanup button, you'll get a confirmation much like you did when you ran the test.  Click Next.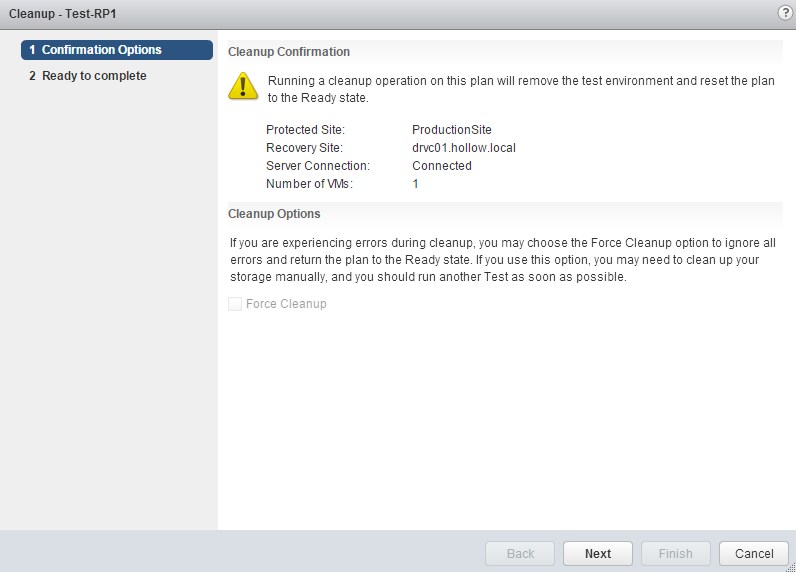 Review the cleanup settings and click Finish.  When you click Finish, the snapshots created at the recovery site will be deleted, any isolated virtual switches used for the test will be destroyed, and the placeholder VMs will be ready for another failover.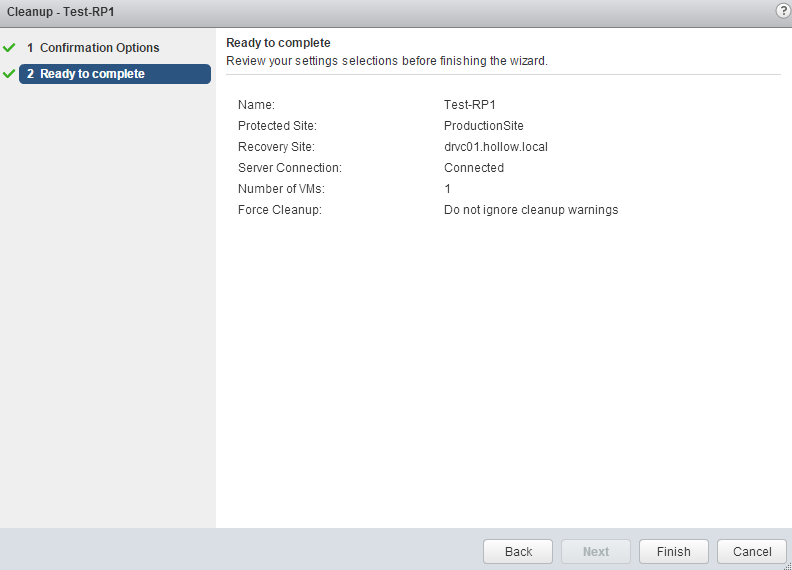 Summary
We don't have to wait for a long test window to try our DR plan any longer.  We can test during the middle of the day, test once a month, week, day  or hour if you really wanted to.   Now we have some semblance of certainty that our DR plan will work successfully if the time arises.