vCloud Air 2014 Beta Impressions
January 20, 2015
I got a chance to take a quick peak at the vCloud Air beta during the Early Access Program and wanted to share some of the experience.
I found the solution very simple to use and straight forward, even without needing to look at any install guides or user manuals.  The interfaces were very intuitive.  Right off the bat, you get to select your virtual Private Cloud region and then create some virtual machines from pre-defined templates.  The templates are based on bare bones operating systems templates such as CentOS, Windows 2012 etc and depending on the type of template you choose, a different pricing methodology will be applied.  Let's face it, open source OS's are free and Windows isn't.  Gotta pay the bills right?
You can see from the below screenshot that it's pretty intuitive on how to create a new VM.

Once I got a VM created, I started poking around to find some additional goodies.  When I went to the "Gateways" tab i found the option to manage my VPC in vCloud Director.  It's nice that this option is still available so that advanced users can still pull out the old vCD configurations and get started with some advanced configurations.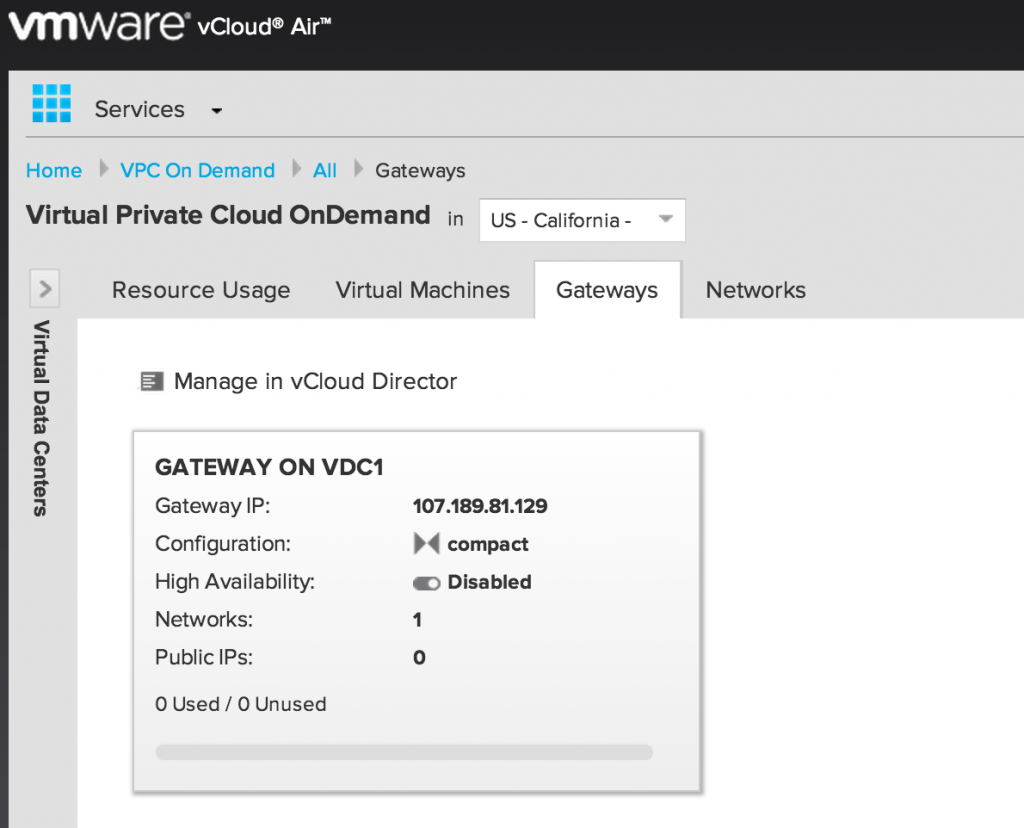 Editing a network configuration was pretty simple, even without using vCloud Director.  Just click the hanger on the network and choose "Edit Network"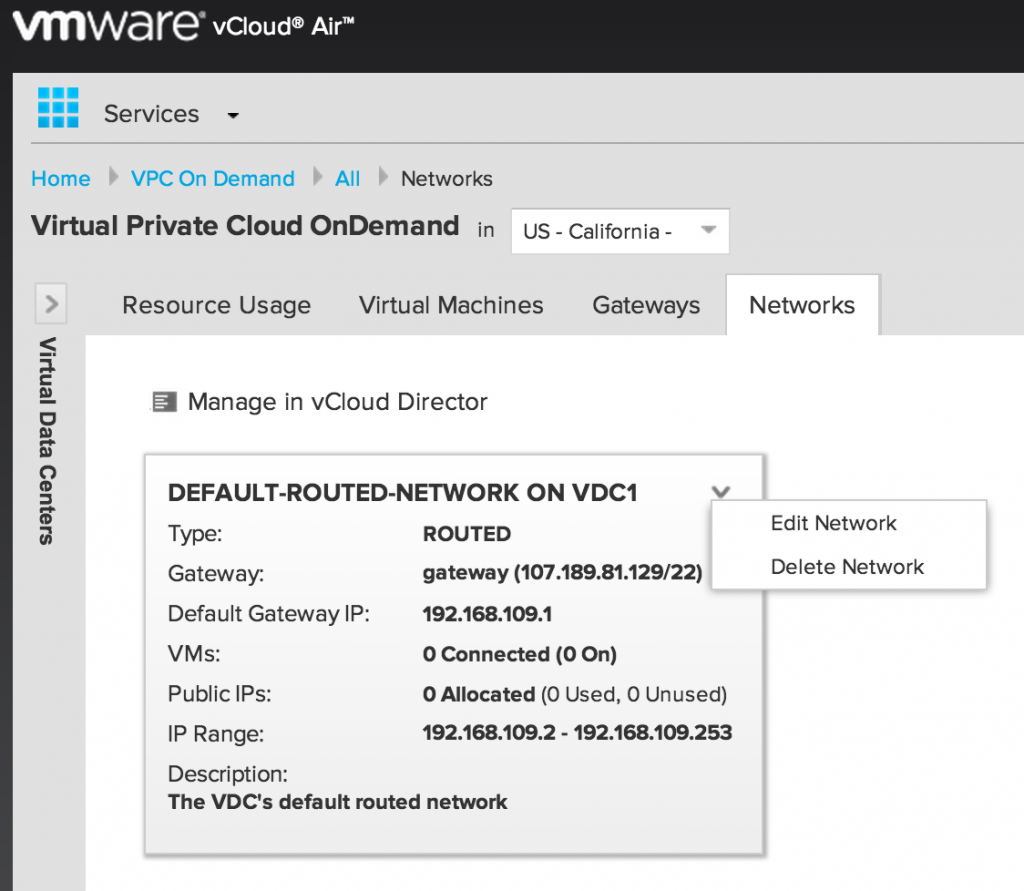 From there, it's simple to change the name to something descriptive, as well as modifying the range.  The gateway and subnets aren't configurable since that would depend on a gateway change.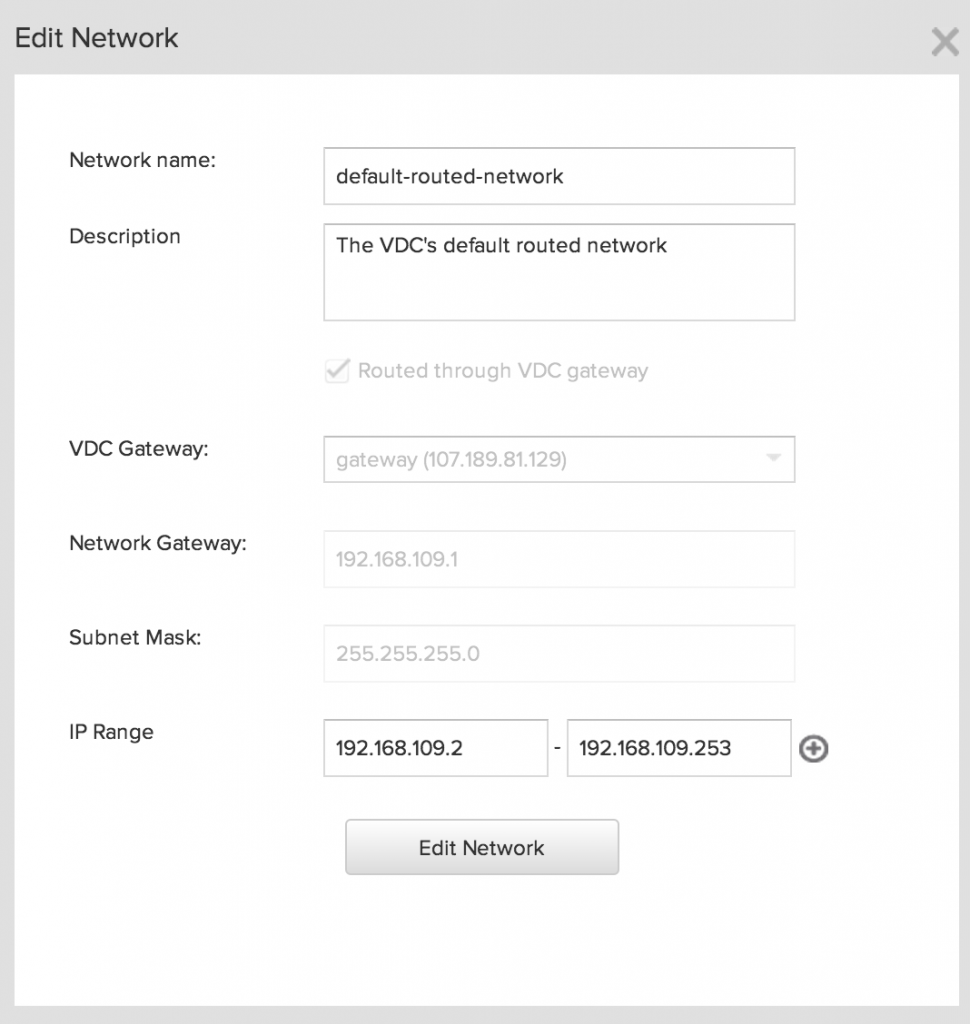 Digging a little further I was able to add a Public IP address to my gateway.  It's one thing to add a virtual machine to a public cloud, but most likely you need to access that through the internet.  My plan was to assign a public IP Address and configure some Network Address Translation as a test.  You also have the options to setup a Virtual Private Network (VPN) if that makes sense for you, and I assume that it would for most people.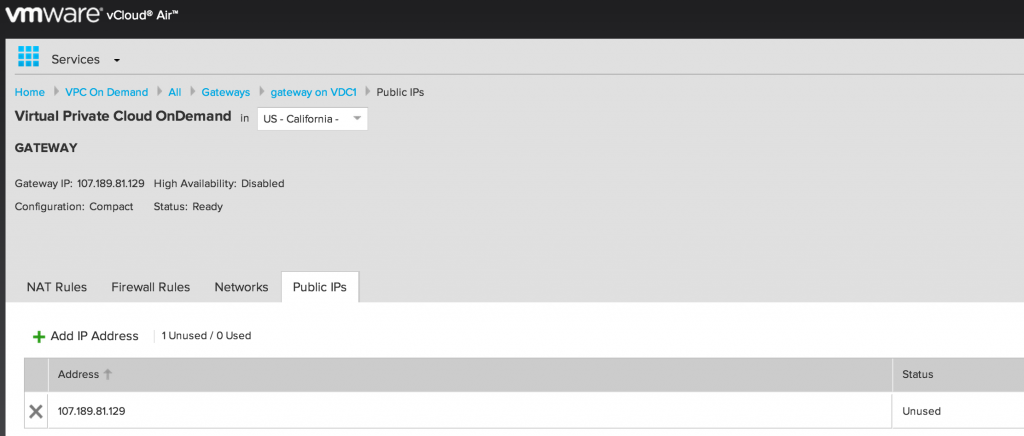 Once the public IP Address was added, a firewall rule got added to allow for ICMP (ping) to be allowed.

Lastly, a Destination NAT rule was added and that completed the configuration.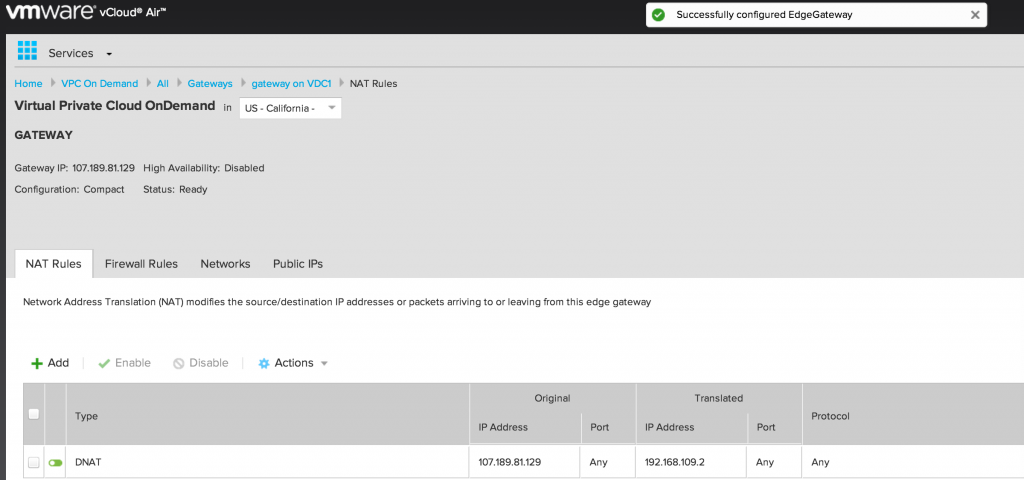 Summary
My first real experience with vCloud Air was pretty positive.  Competitors such as Amazon and Microsoft might be ahead of the game here, but the user interfaces for vCloud Air impressed me about how easy it was to use.  vCloud Air also has me very intrigued by some of their services which I wasn't able to get access to, such as their VMware SRM endpoint.  Being able to connect my local datacenter to vCloud Air for a disaster recovery endpoint seems like a great idea for a smaller company that can't afford a second site, but needs a DR plan for compliance reasons.
If you want to try out the VMware OnDemand Portal check it out for yourself here.