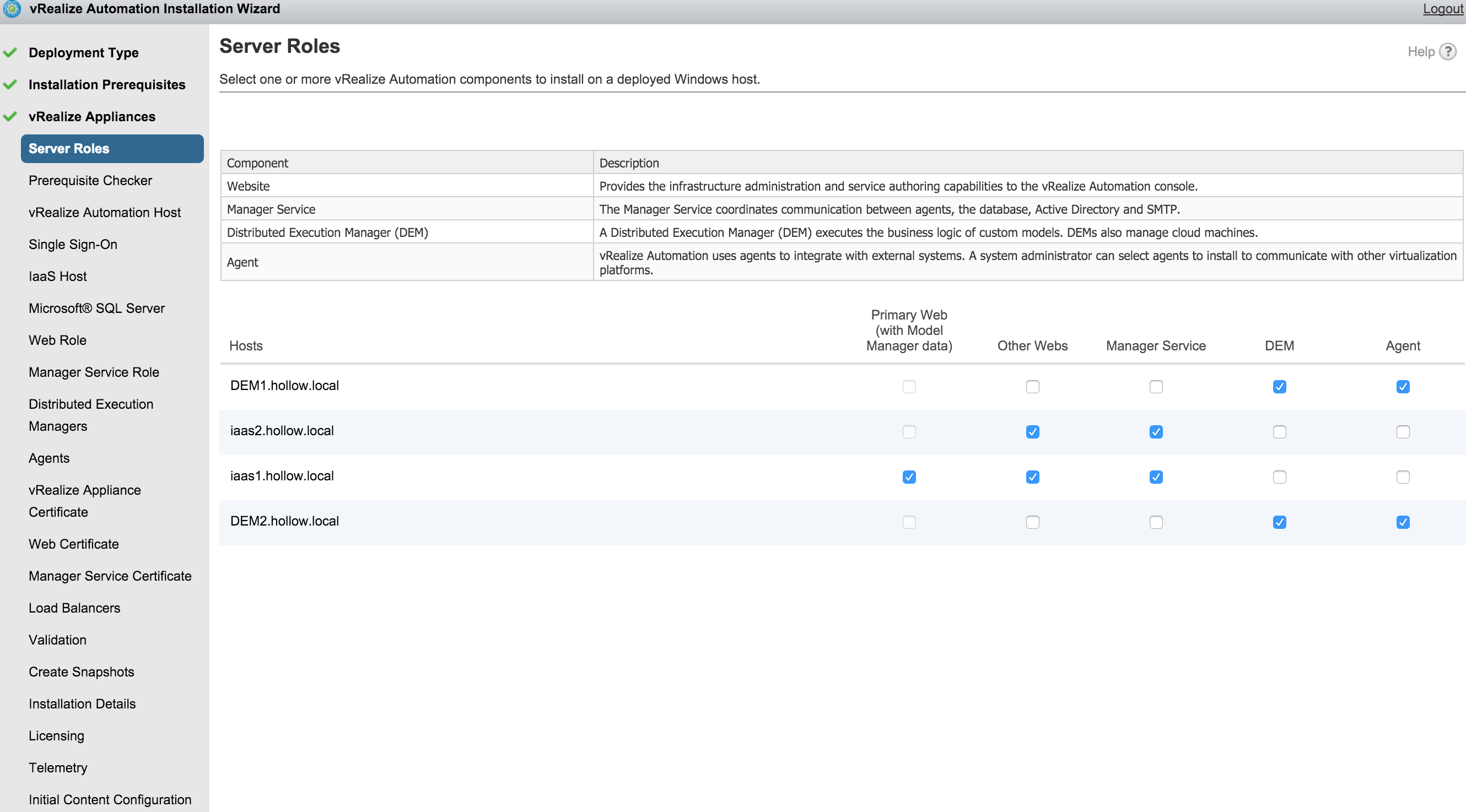 vRealize Automation 7 – Enterprise Install
February 22, 2016
OK, You've done a vRealize Automation 7 simple install and have the basics down. Now it's time to put your grown up pants on, and get an enterprise install done. This is a pretty long process, so be ready, but trust me, this is much better in version 7 than in the past.
Load Balancer
To start with, you will want to configure your load balancer. An enterprise install means that you'll want at least two of each type of service so that you can protect yourself from a failure. There are three Virtual IPs (VIPs) that should be created prior to starting your install. The table below lists an example list of VIPs with their associated members and ports.
| Item | Members | Port |
| --- | --- | --- |
| vRA Appliance URL | vRA Appliances | 443 |
| Manager Service | IaaS Hosts | 443 |
| Web Service | IaaS Hosts | 443 |
Here is the catch with the VIPs. During the installation, only one member of each VIP should be used. You can either setup your load balancer with a single member for each pool, or you could ensure that your load balancing method ensures that only a single member in the pool is used. For instance you could add all your members to a pool but weight them so that only the first member is getting any traffic through the load balancer.
You can see in my example below, I've setup my KEMP LoadMaster to round robin across a single master.

Next you'll deploy a pair of vRealize Automation Appliances, a pair of Windows Servers for the IaaS components, and some number Windows servers for DEM workers and DEM Agents. In my lab, I've decided to go with a pair of vRA appliances, a pair of IaaS Servers and a pair of DEM Servers that will also hold agents. This makes six servers in total, but depending on your workloads and design, you may need more or less of these servers. Once you've got all your servers deployed and ready to go, let's login to our first vRA appliance by going to https://[vraIPAddressorFQDN]:5480.
When we login to the appliance we'll see that we are brought to an Installation Wizard. Here we want to select "Enterprise deployment" and make sure to select the "Install Infrastructure as a Service". Then click Next.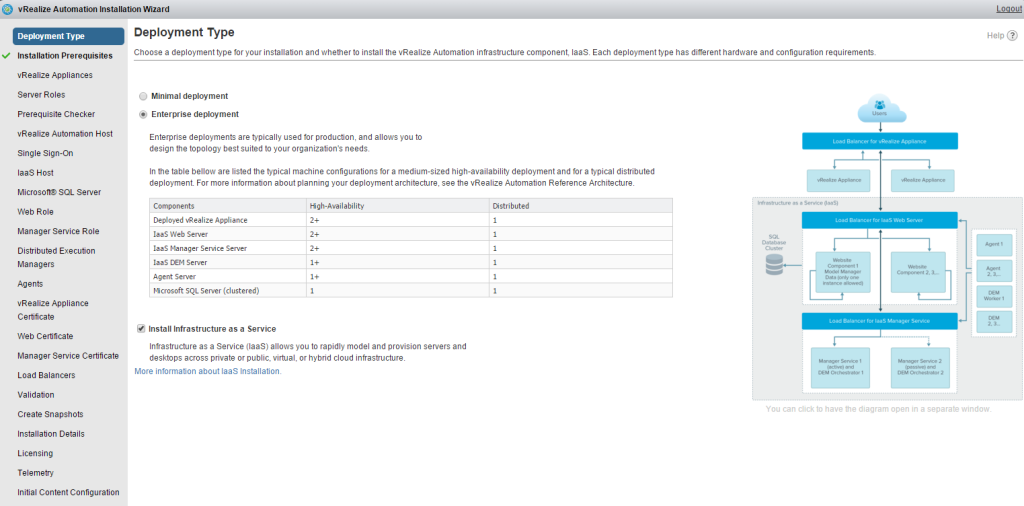 The next screen we'll see a link to the vCAC-IaaSManagementAgent-Setup.msi. Download this file and run it on every one of your IaaS Severs and DEM Workers and Agent Servers.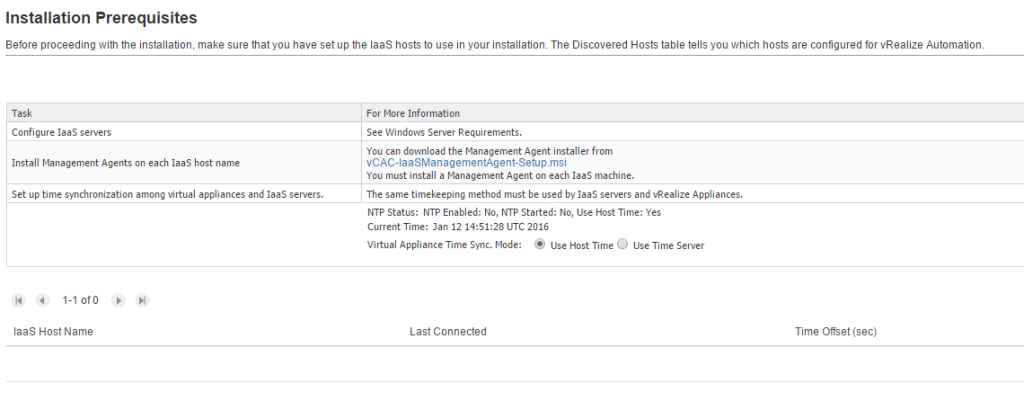 When you're installing the Management Agent on your Windows servers, enter the vRA appliance address that you want to connect with. This should be your primary vRA appliance that we were running our wizard from. Do not enter the Load Balancer VIP or the other vRA appliance or it will cause you issues. Then enter the root login and password for the appliance and click "Load" to get the SHA1 fingerprint. Select the checkbox to confirm that the fingerprint matches and then click next.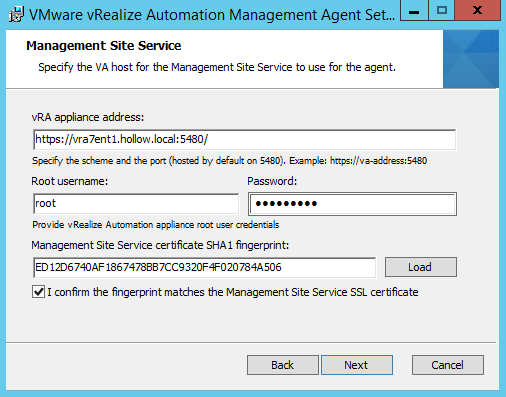 Enter a login name that has administrative privileges on the Windows host, so it can make changes on behalf of the vRA wizard. Click Next and Finish.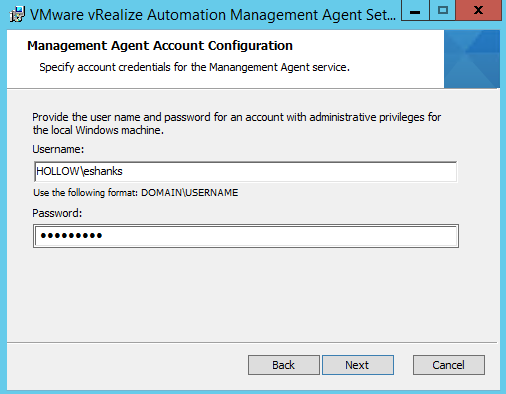 When we go back to the vRA installation wizard, we should now see that our Windows servers are listed on the screen now. Enter a time server in and click "Fix Times" Then click Next.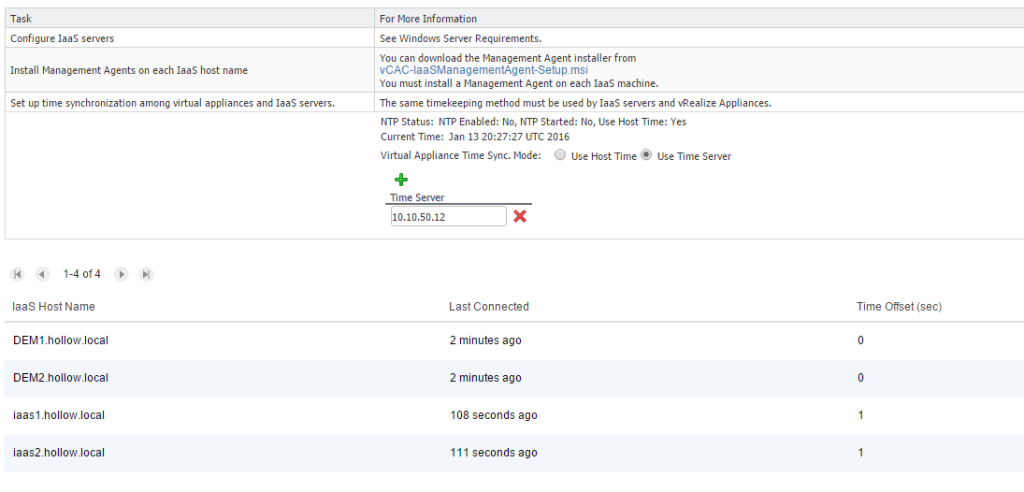 The next screen asks us for the name and login for the secondary vRealize Automation appliance. Enter the info and click Next.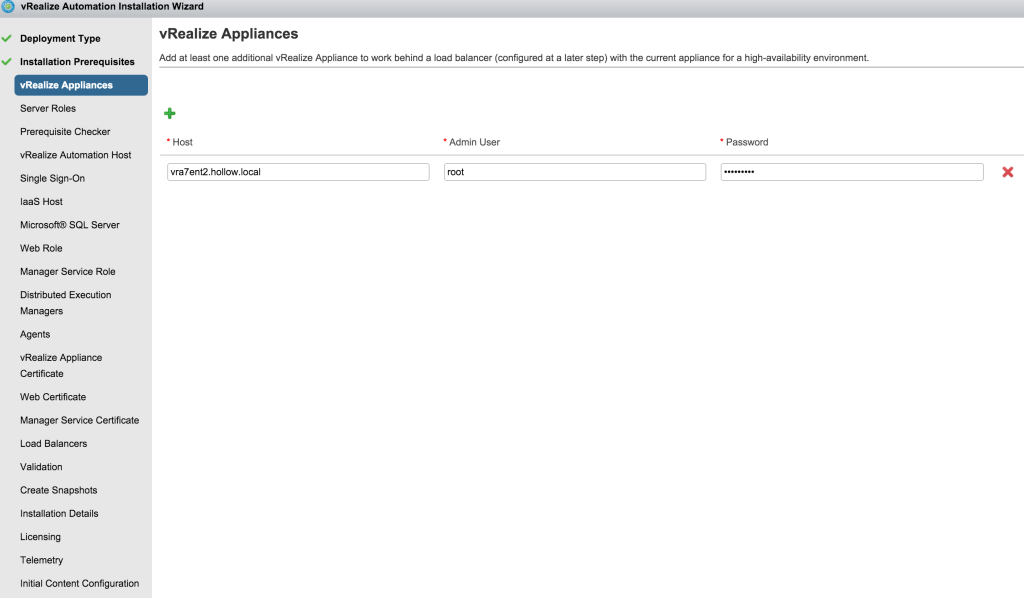 The Server Roles screen will ask us where certain components should be installed. Select the servers that you want to install components on and click Next.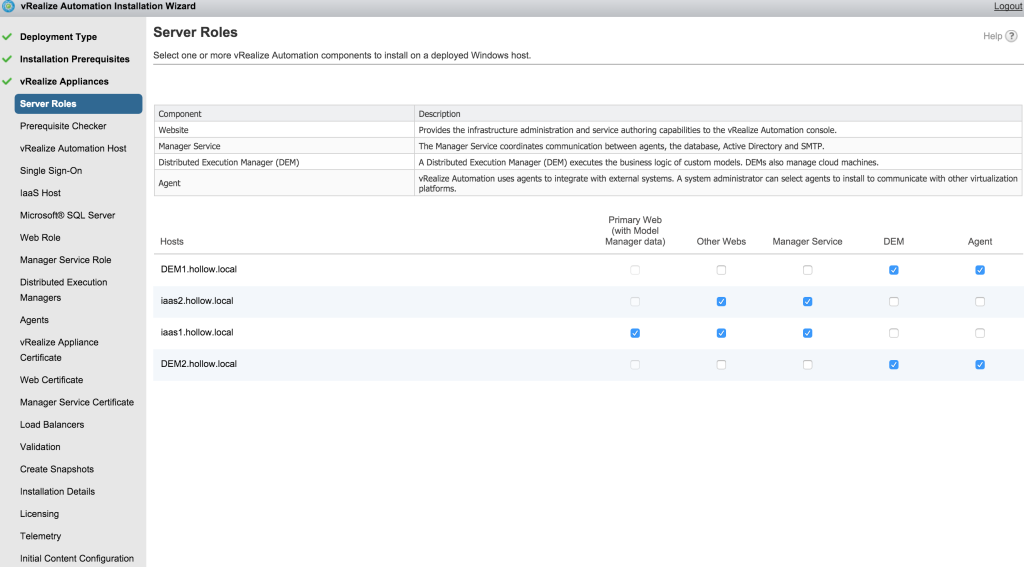 Now we're at the Prerequisite Checker screen and we need to click the "Run" button to ensure that all of the correct software and patches are installed prior to installing vRA components. Click Run.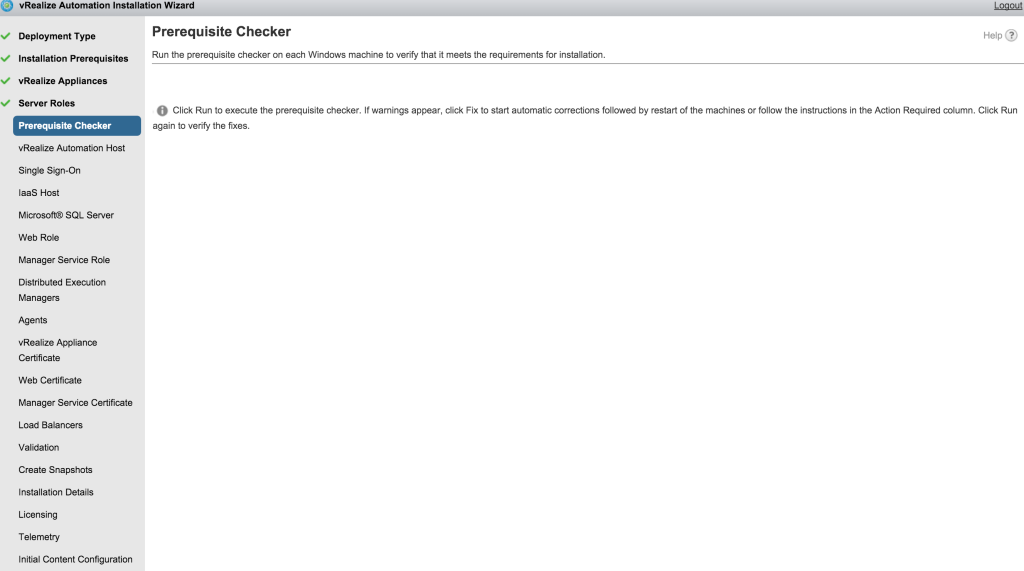 My guess is it will come back and show you a screen like the one below where you have some things missing. Not to worry, Click the "Fix" button and the wizard will try to fix these settings in conjunction with your management agent.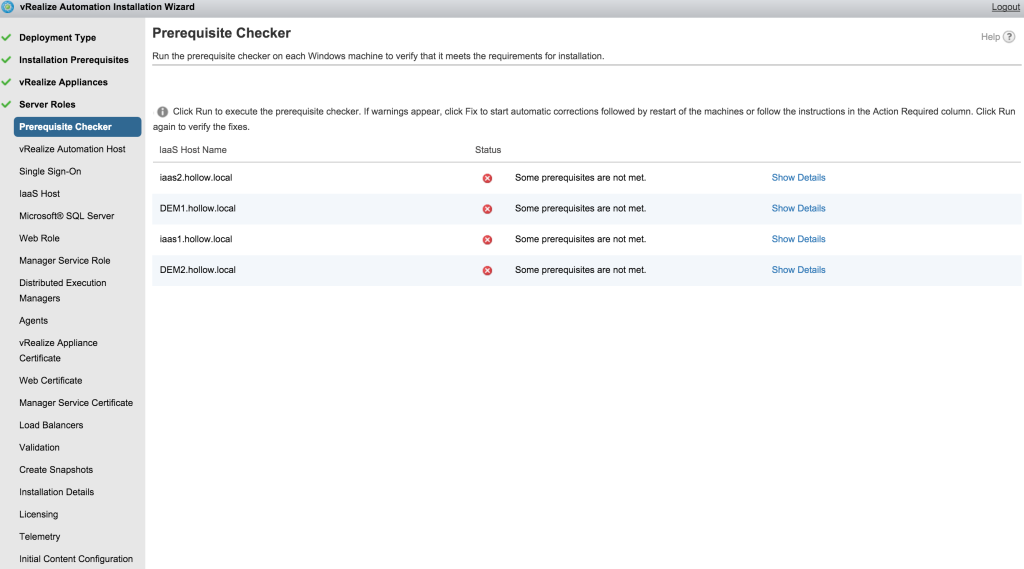 Once you see a screen with all pretty little green checkmarks, you can click "Next."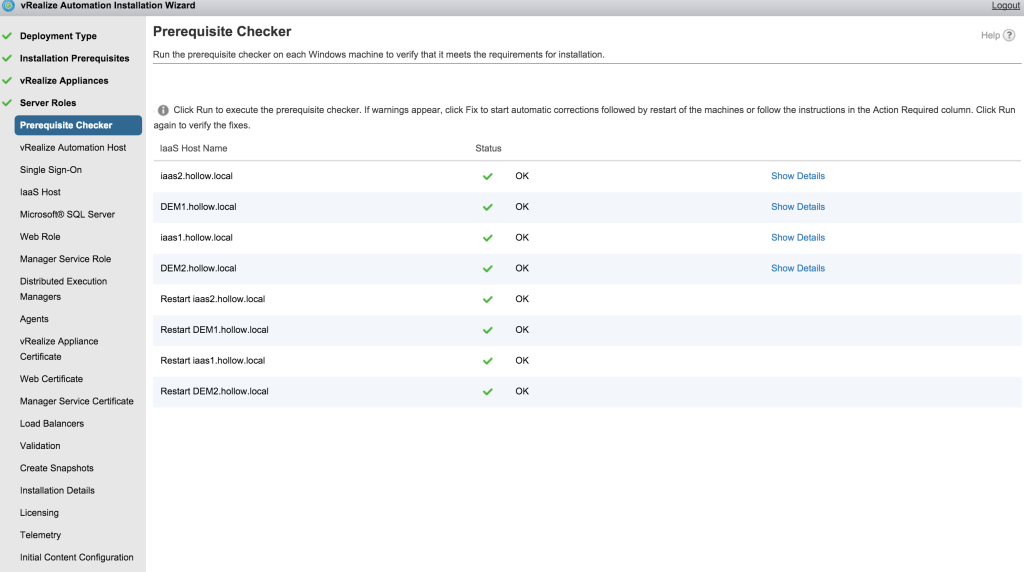 Now we need to enter the fully qualified name for our vRealize Automation appliance Virtual IP Address that is on our load balancer. Enter in the name that you've put into the load balancer and click "Next."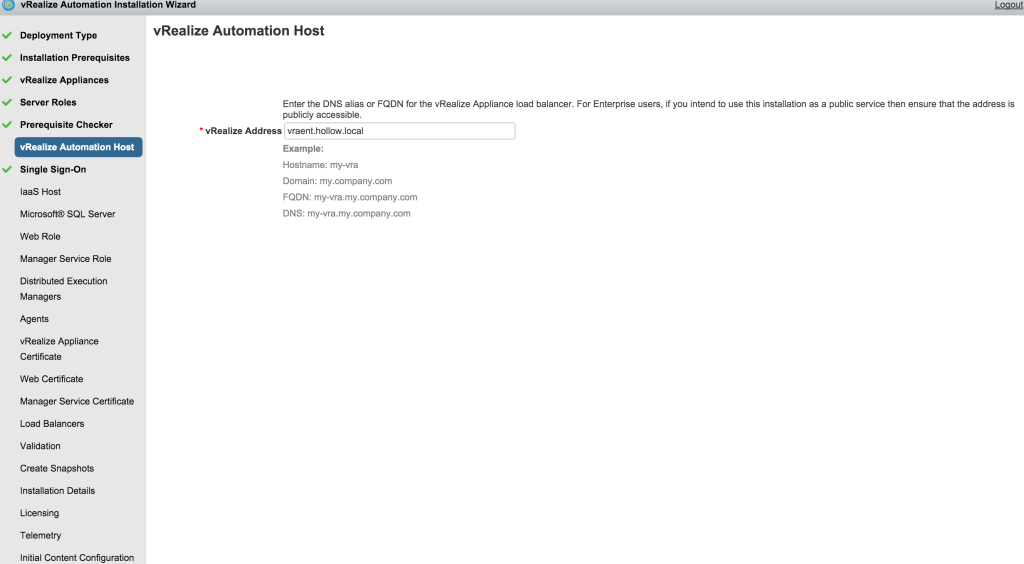 Enter a Single Sign-On password and make sure that it meets the complexity requirements listed in the wizard. Click "Next."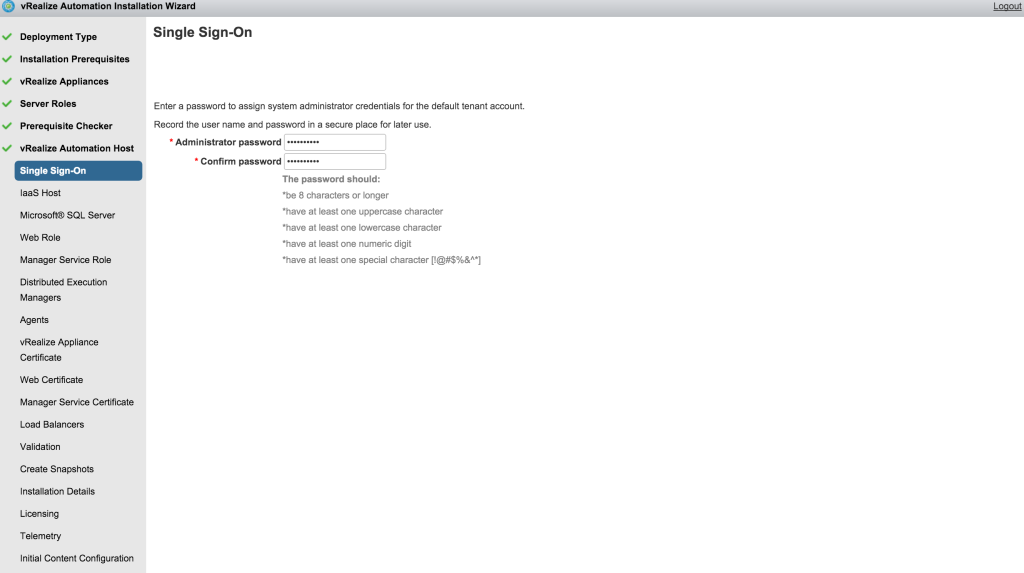 Now we've come to the IaaS Host screen. Here we need to enter the Fully Qualified Domain Name of the VIPs for both the Web Service and the Manager Service. Also, enter a passphrase that will be used to encrypt contents of the database on this screen. Click "Next."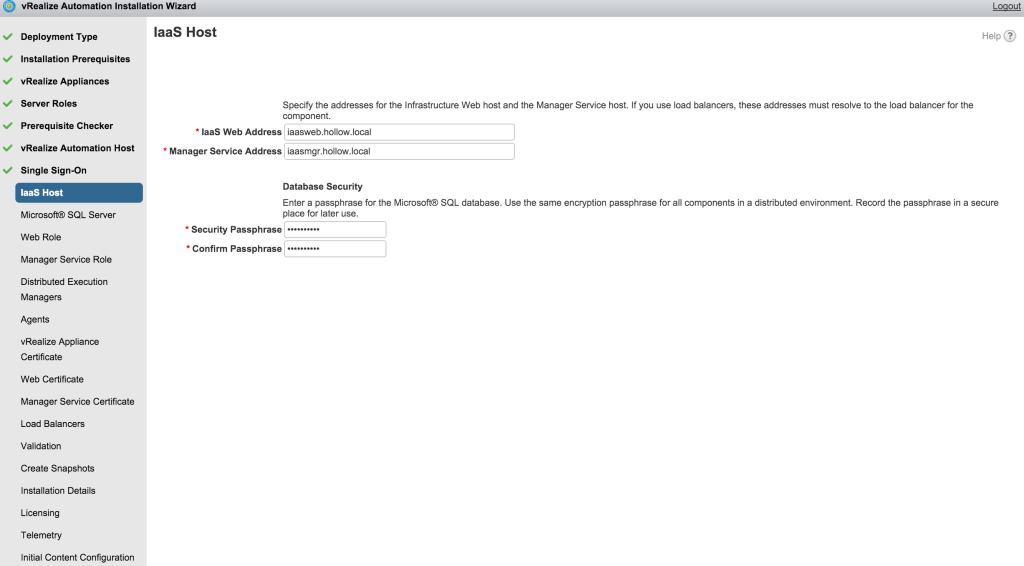 Enter the SQL Server information that will be used to house IaaS database information. You can have the wizard create the database for you if you have the appropriate permissions. Otherwise you can set this up prior and select the database during this step. Click "Next."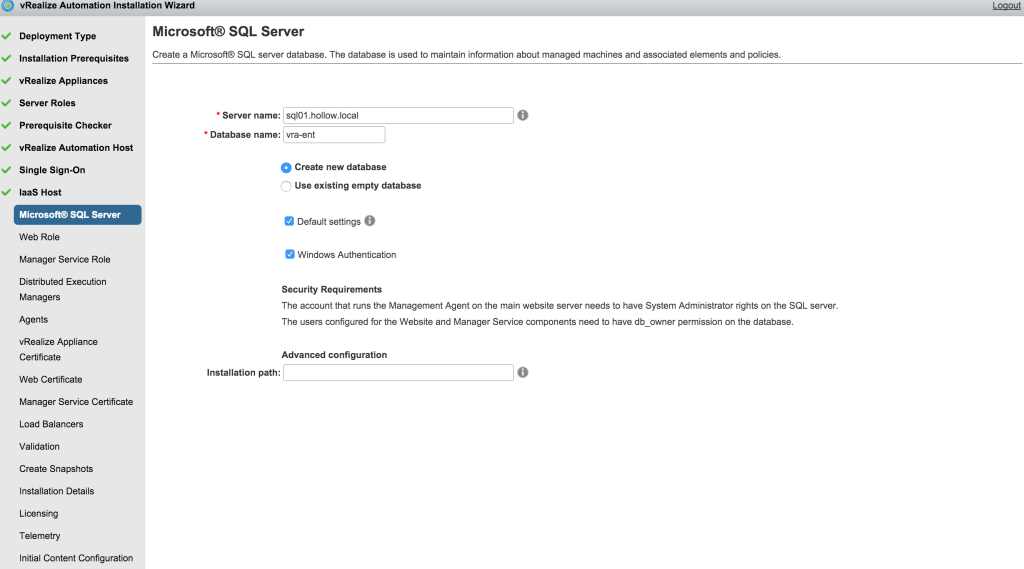 Select the website name and port if they are to be changed from the default. Enter administrative credentials for each of the IaaS servers. Click "Validate." Then click "Next."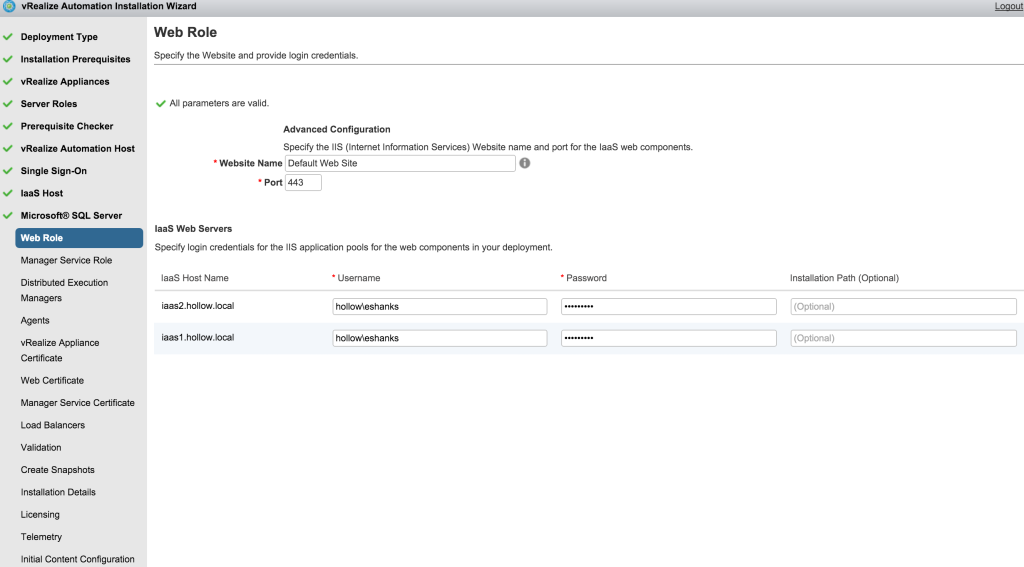 For the manager service we need to also enter administrative credentials to install this service. Click "Next."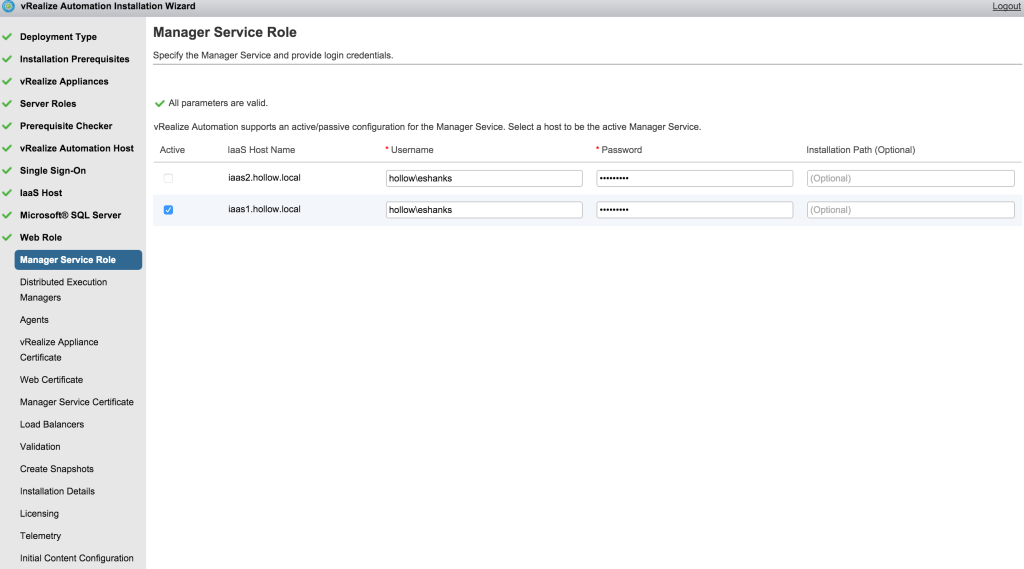 Now we enter an instance name for the DEM Managers and some credentials for them. You can also enter an instance description if you would like. Click "Validate" then click "Next."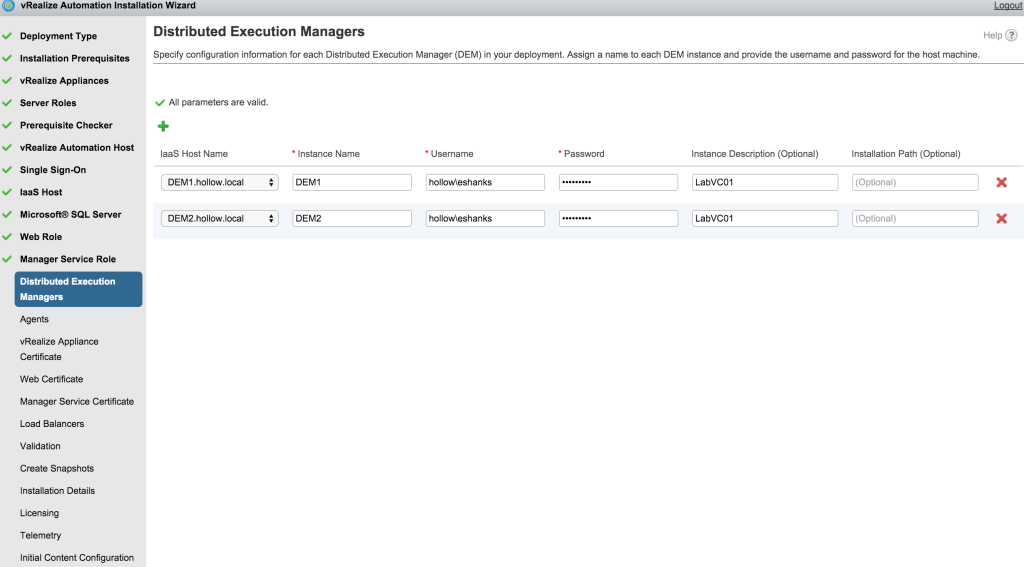 Here we enter information for our Agents. The agent is used to connect to an endpoint and our default agent should be named "vCenter" spelled just like this and case sensitive. Enter login credentials to install the agent and enter the FQDN of the vCenter Endpoint that you're connecting to. Click "Next."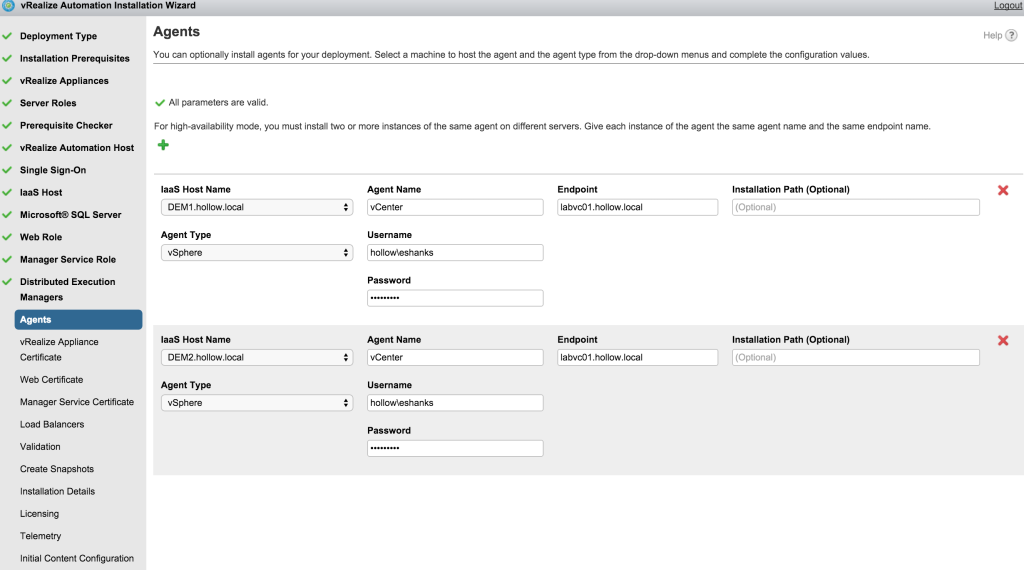 Now it's time to add some SSL certificates to your vRealize Automation infrastructure. To start, we add a certificate for the vRealize Automation appliances URL. You can import a certificate or generate your own certificate. I've chosen to enter some information in and generate a self-signed certificate. This should be avoided for a production workload, but that is not covered in this post. Click "Next."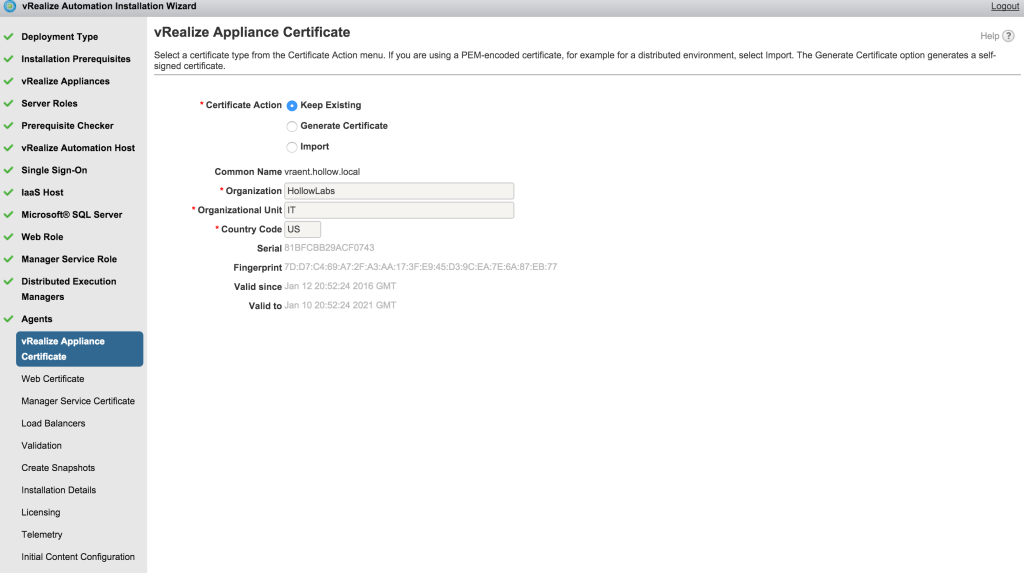 Now we need to repeat the same steps for the IaaS Web servers. Click "Next."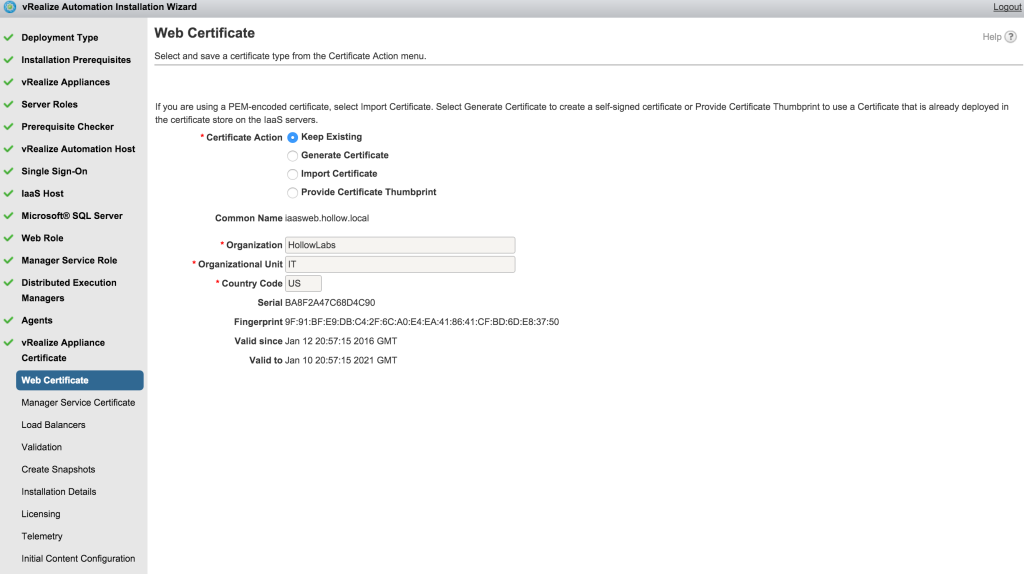 Lastly, repeat the procedure for the Manager Services Certificates. Click "Next."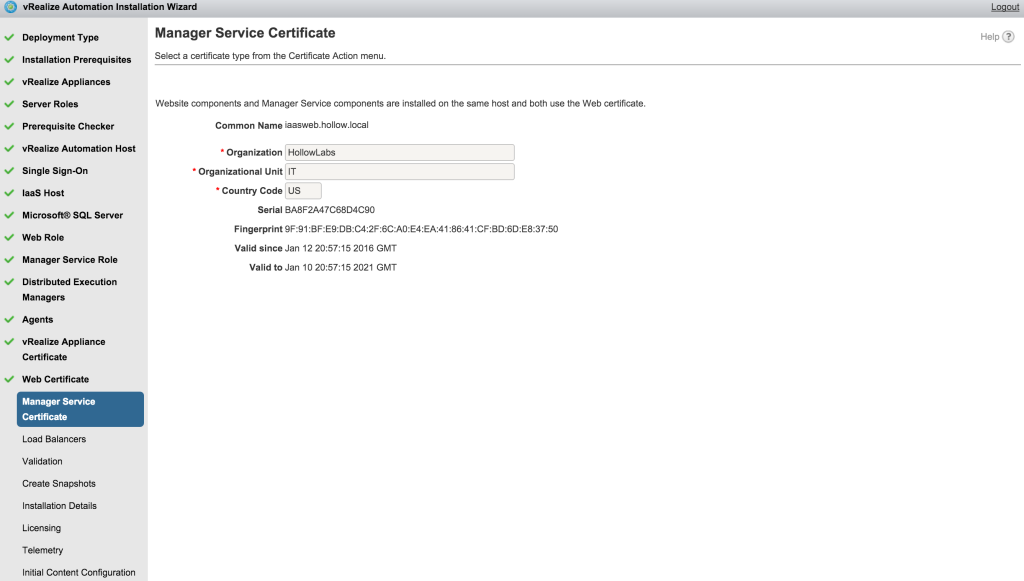 The next screen gives you a recap of what VIPs should be setup based on the information that you've entered into the wizard so far. Double check at this point to make sure the DNS names are all entered correctly and the members are added to the Load balancer correctly. Click "Next."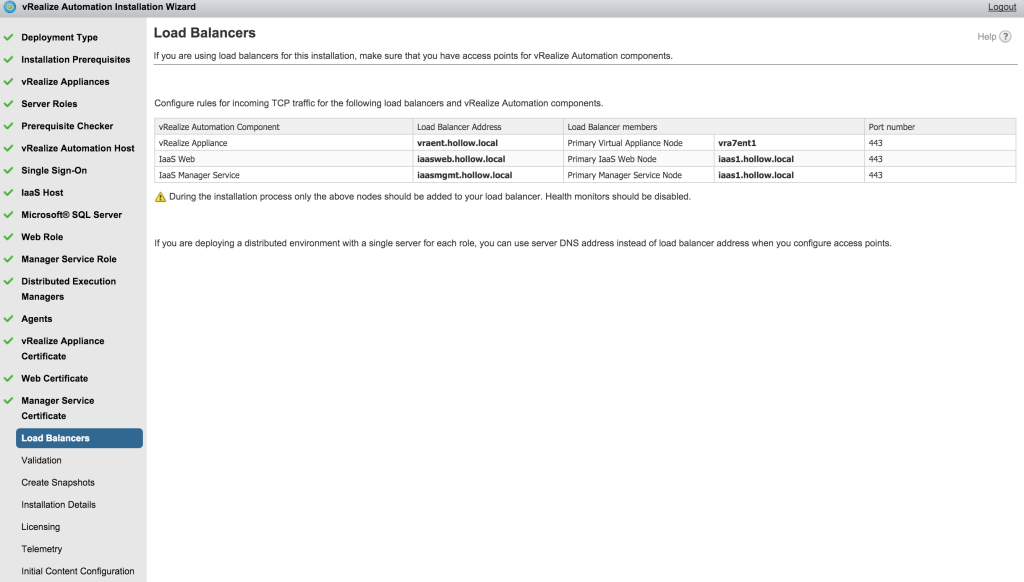 On the next screen you'll click the "Validate" button to have the wizard check with all of the servers and make sure that everything looks good to go before running the installation. This takes about 10 minutes or more, so let it run and come back and check on it. Click "Next" once all of the commands show up as "Succeeded."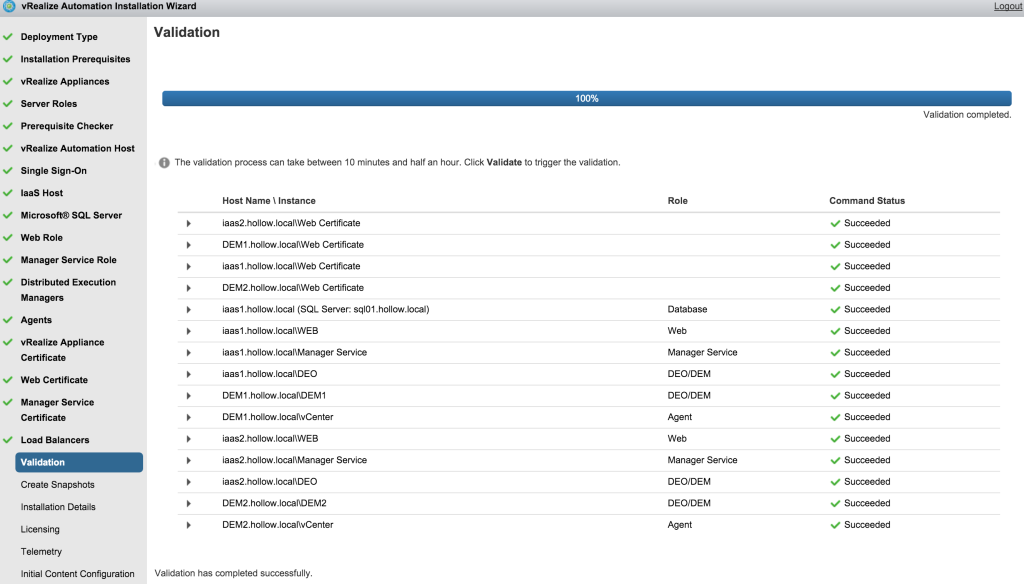 The next screen is a nice reminder to take some snapshots of your infrastructure before you get going with the install. I would take the hint here and go take some snapshots.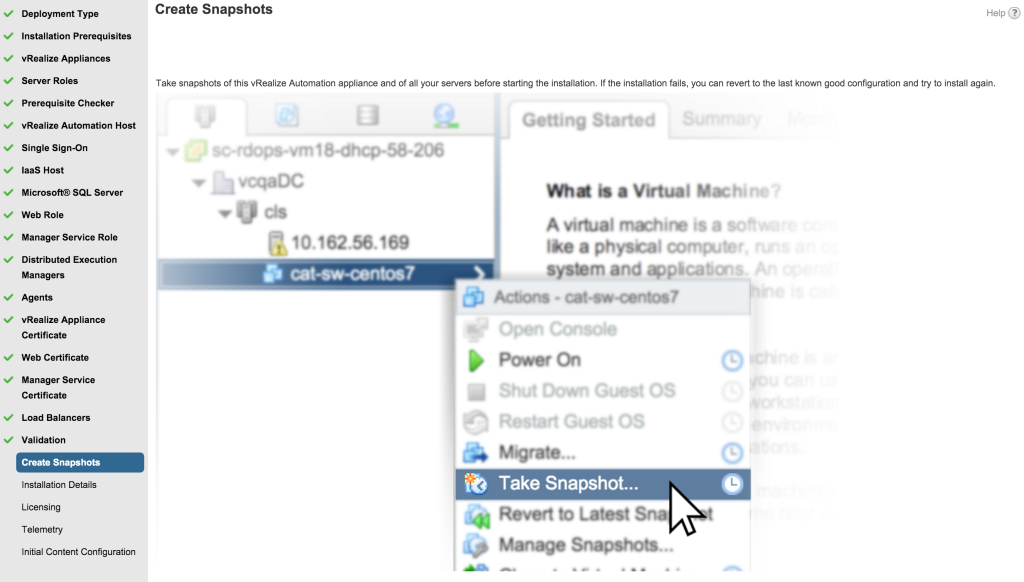 Run your install! That was a long wizard, but pretty straight forward. The installation will take quite a while to complete. Once you start it, go grab a cup of coffee, and then read a book about coffee, and then check on the install. This really does take some time but you'll get updates when items have finished or if an item fails the installer will pause. If this happens, you can read the error message and are allowed to retry the failed components if necessary. Once you get that pretty screen with all green check marks, you're done with the install. Click "Next."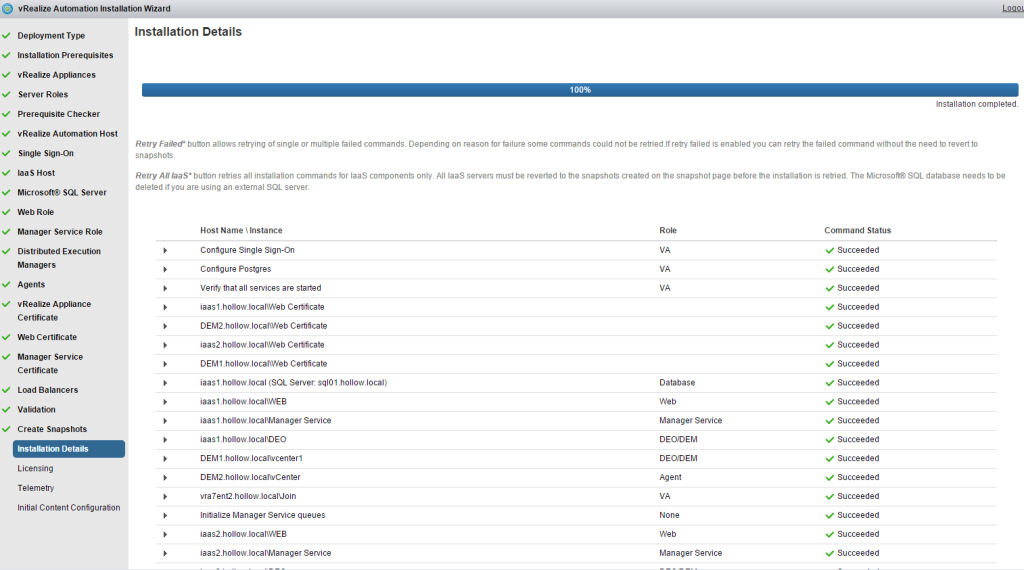 If you want to, you can look at your load balancer now and you should see that the VIPs are now up! Go back to your install wizard.


The next screen is to add a license key. Add a valid vRA7 license key and click "Submit Key." Click "Next."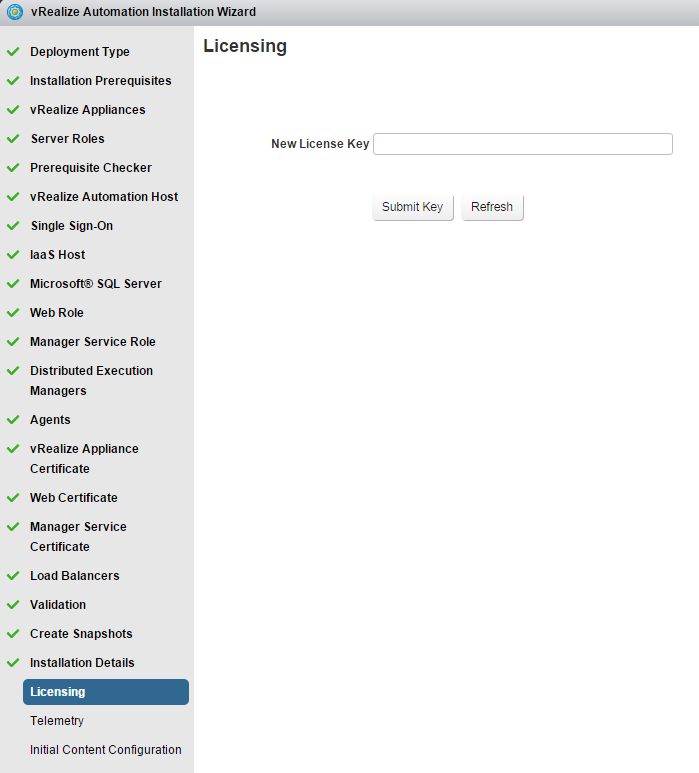 The next screen gives you the option to send telemetry data to VMware for them to better the project. This is completely optional. Click "Next."

Lastly, you can add some initital content to your vRealize Automation instance. I usually skip this section because I want a nice clean vRA instance that doesn't have any demo information in it already. This is again up to you. Click "Next."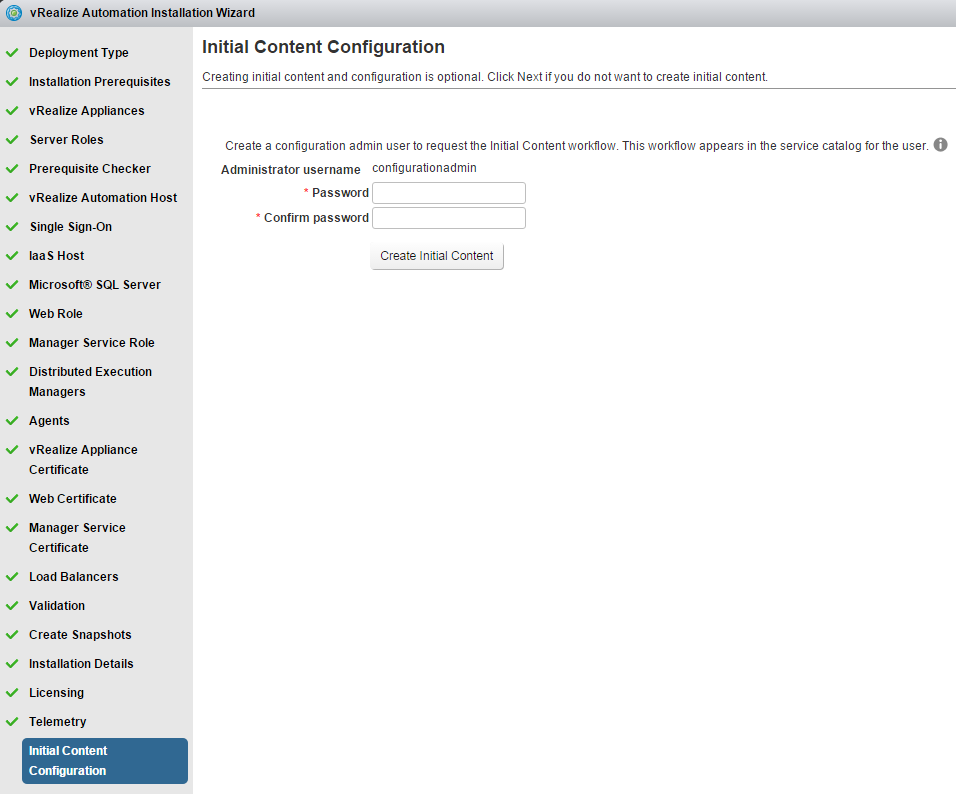 YOU DID IT! That Congratulations message is a welcomed sight after a long wizard. This last screen will also give you some information about making some post install modifications to your load balancers as well. Be careful though, these instructions have a typo in them. Please see the post on Load Balancing Rules to give you more details on this.

Summary
A vRealize Enterprise install has a lot of pieces in it, but they are necessary in order to provide fault tolerance and to distribute load. This post has shown how to complete the installation.