Unwitting Accomplices in Your Career
November 21, 2016
It's the time of year in the United States where we celebrate Thanksgiving. If you're not familiar with this, it's a holiday where we give thanks for those things which have blessed us and to take a moment to reflect on all the good things that we have. I recently came home from Tech Field Day 12 and was reflecting how some people have positively affected my career and possibly had no clue what kind of impact they've made.
My Story
While working as a Systems Administrator several years ago I was invited by a vendor to go to my first VMworld. During a dinner in Las Vegas I was introduced to another fellow Chicagoan named Chris Wahl who was also interested in VMware. It was during this dinner when my eyes were opened to a larger community of people who shared experiences through twitter, blogs and social media in general. At the time I thought that this was a trivial thing, but soon after the conference I began participating in the VMUG in Chicago as a member, so this chance encounter introduced me to several new avenues of career growth.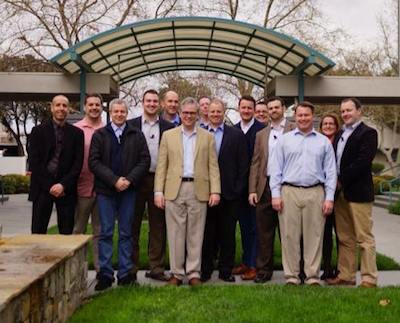 It wasn't long after attending my first VMUG when I began presenting. Yeah, this was a big deal for an introvert. Speaking in front of other people about things that I felt like I barely understood myself was difficult. But it helped me to learn, that by teaching a subject to other people, I learned it at a much deeper level than I originally understood it.
This experience made it apparent to me that I should start blogging about these things so I'd understand it better, while hopefully helping other people that may be looking for information. Blogging eventually introduced me to Stephen Foskett and the Tech Field Day crew. Stephen introduced me to a small group of other delegates including Scott Lowe and David Davis who were working on their own startup. Scott and David needed a hand with some keynotes and I was happy to oblige.
Between VMUGs, blogging, and speaking engagements I had learned enough to get a job at AHEAD which introduced me to a great team of people, probably the smartest group I've ever worked with. No doubt, a team I'll likely never be able to top. Here I found technical expertise on more things than I'll ever be able to learn myself, but on top of that I found people that have helped me to pursue career goals. Steve Pantol has been a guide and example on how to manage stressful challenges and Tim Carr has been a great VCDX partner and friend.
I've, for sure, missed many people in this post, but picked a few that I feel have directly or indirectly had a big impact to my work life besides my family members who have been a much bigger part of my career. I would guess that the people that I've mentioned have very little idea that they've had any impact at all on my career so hopefully they will see this and know that I've at least benefitted from their conversations, friendships, or guidance.
What's Your Story?
It seems very odd writing about specific people that have had an impact on your career, especially ones that you still work with. But should it? It's Thanksgiving and shouldn't it be OK to acknowledge people who've helped you? There should be no shame in saying thank you to people who've impacted your lives and I encourage the community to share how individuals have helped them in the comments for this post.
Happy Thanksgiving from theITHollow!