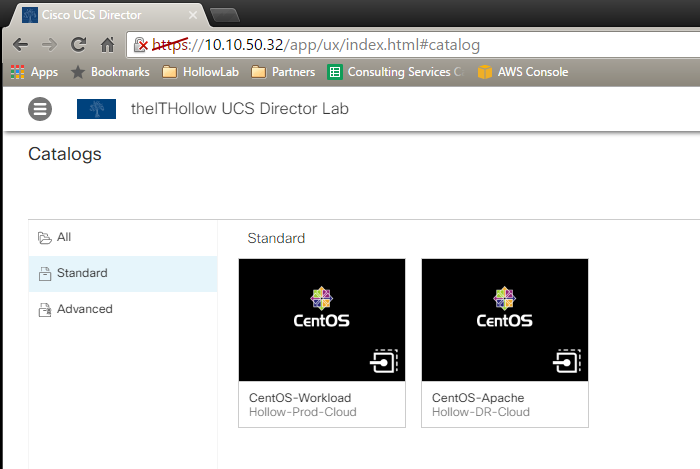 Cisco UCS Director Catalog Request
January 23, 2017
Cisco UCS Director Catalog Requests are the entire reason for having a cloud management platform in the first place. It's the end user's store for where they can request machines and services. To request a service, login to the UCS Director Portal with an account that has the "Service End-User" role. This role provides a different portal when logging in that only shows the user's orders and catalogs and removes all of the administration options.
Once logged into the the user portal, look for a folder with your catalog requests in it. In the examples we've used in this series, I've got a folder called "Standard". Click your folder.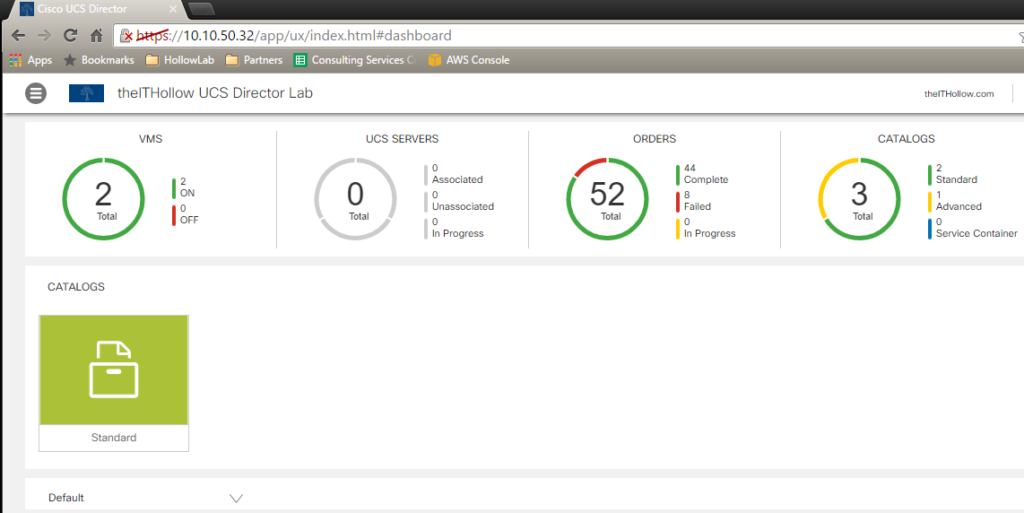 Once you open the folder, you should see the catalog items that have been assigned to this user account. Select the catalog item from the menu.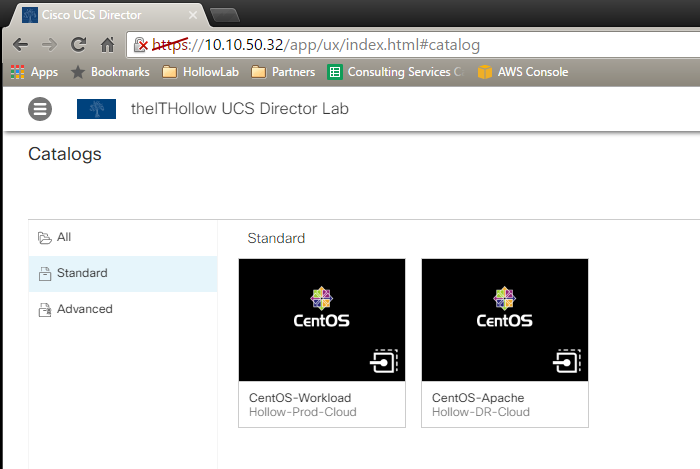 As part of the standard request forms, select who will own the virtual machine. This could be the specific user, or a group of users who may roll back the requests and manage the VM later. Make your decision and click "Next".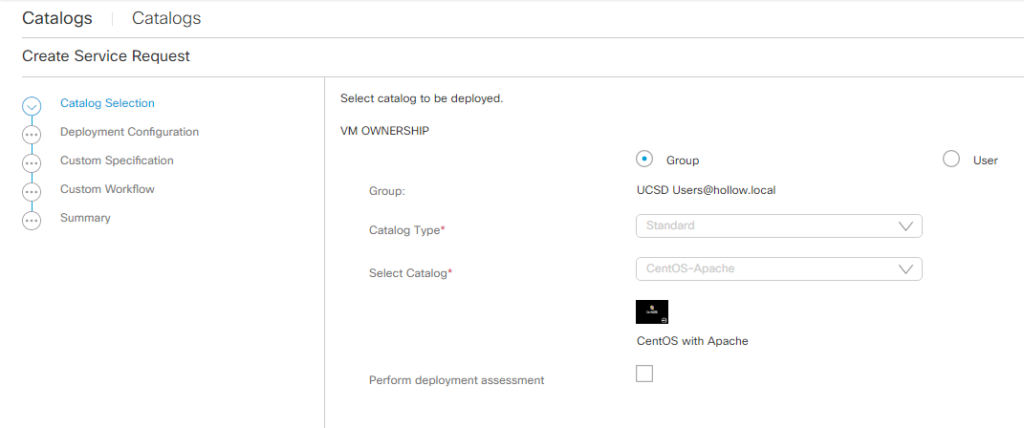 On the next screen, select the Virtual Data Center that his catalog should be deployed in. You may also add comments to the request and select a time to provision the virtual machine. If your VDC has a lease policy, this will be set for you, and depending on how you setup your polices, you may be able to change this lease. Click "Next".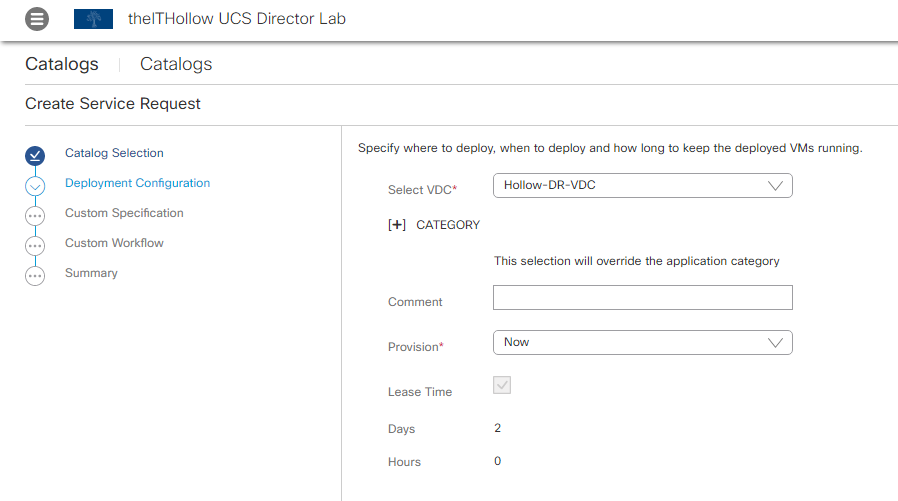 Select the size of the virtual machine. This will be dependent upon how you setup your computing policy in the VDC. Make your selections and click "Next".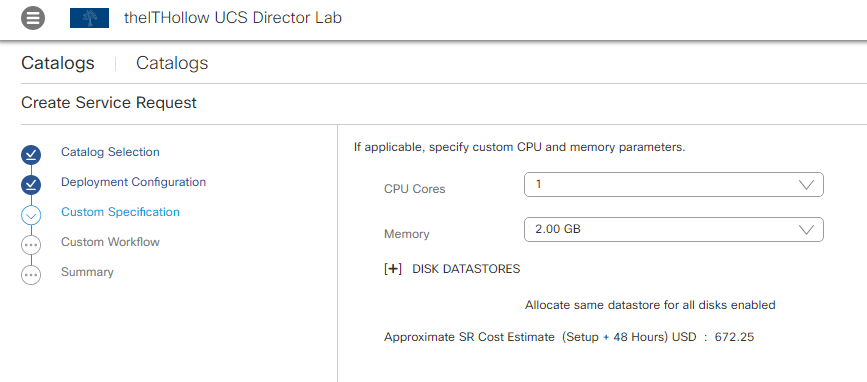 Again, depending upon how you setup the policies in the VDC, you may be able to select a post-deployment workflow to be executed after the VM is provisioned. Click "Next".

Review your summary page for any issues and click "Submit".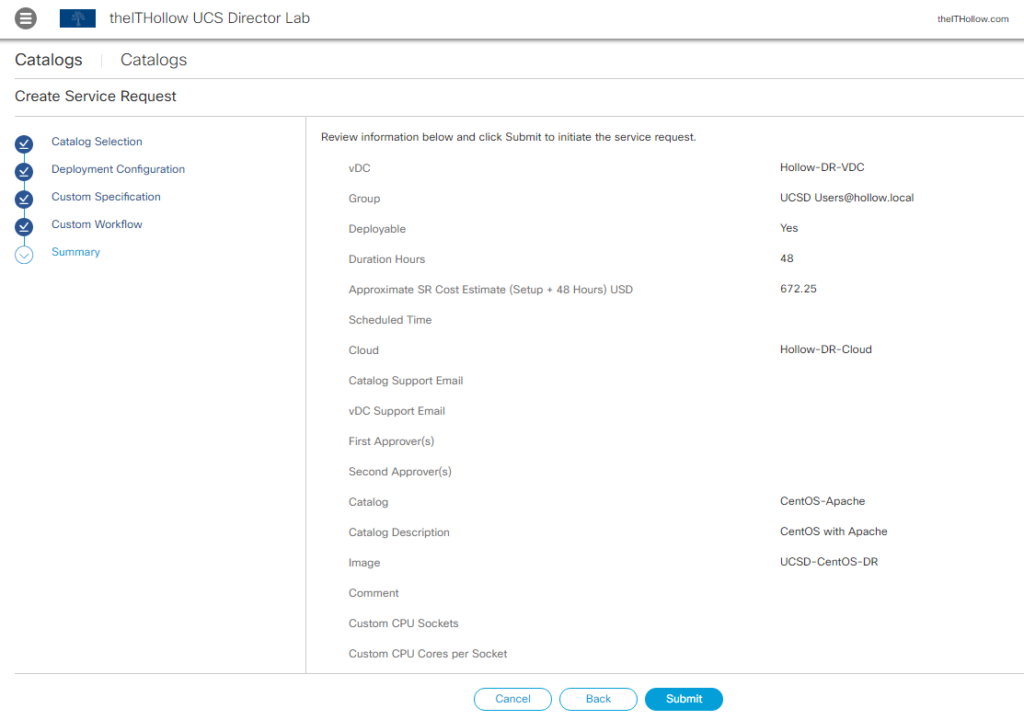 After the request has been submitted, go back to the user dashboard and look for your requests. You'll see the status of any "In Progress" requests so that you can keep an eye on it. The dashboard will then show you any machines that you've provisioned, etc and be your default landing page for all things related to your cloud. The administrator will be able to see these requests as well so that he/she may help you administer these objects. 

Congratulations, you've just deployed your first virtual machine through the UCS Director request portal!