The Dark Side of Stress
June 18, 2018
I took last week off from work to spend some time with my family and just relax. I'd never been to Disney World and have a six year old who is seriously into Star Wars, so this sounded like a great way to take a relaxing week off. During this vacation I found that it took several days before I even started to unwind. I ended the work week on a Friday and still felt the work stress through the weekend and into Monday. Maybe it's a normal thing to still feel the stress through the weekend, but I had expected to feel an immediate release of tension when I was done with work on Friday when my vacation began. But all weekend I kept noticing that I couldn't forget about work. In fact, I felt pretty sick one day and believe it was stress related. After a few days I started to pay attention to the activities of the day and didn't pay as much attention, but it made me think that those two day weekends and how they certainly weren't recharging me to be prepared for the next week of stress.
Zeigarnik Effect
I did what any geek would do, and googled some stuff about why I felt like I did, and I found that there is a psychological phenomenon called the Zeigarnik Effect. This effect is a person's ability to remember unfinished tasks much more easily than completed tasks. A Russian psychologist, Bluma Zeigarnik, started studying the phenomenon after seeing that waiters/waitresses could pretty accurately remember open orders, but couldn't answer questions about orders that had been completed. The study concluded with Zeigarnik and her professor Kurt Lewin showing that unfinished tasks created a task-specific tension that allowed your brain to keep focusing on it and relieving that tension when it was complete.
Coping with Zeigarnik
For me, knowing why my brain was still clinging to work for a few days was helpful, since not knowing why I couldn't de-stress was also stressing me out. Was I broken? Is there something wrong with me that I obsess over things from work even when I'm taking a break? I found myself actively trying to let go and relax, and the fact that I had to keep forcing myself to do this was also stressing me out. Knowing that there was a reason for my obsessiveness was really helpful. It wasn't my fault exactly.
Now that we know why we sometimes feel this way, maybe we can counteract the effect or hack our brains to short circuit it. It seems as though our brains can only hold so many tasks in our active memory at at time. So when you're on vacation or at home on the weekend, try doing something that takes some focus. I've found that when I think I'm trying to relax, like watching the Cubs (the best baseball team on the planet) on TV I still feel stress, but if I am actually playing baseball or video games, I forget about work for a brief time. A focused activity might be the thing you need to stop thinking about all of those open tasks you've still got to get back to. During my vacation, I got busy doing Disney stuff, like meeting Kylo Ren, and I eventually forgot about work for a little while.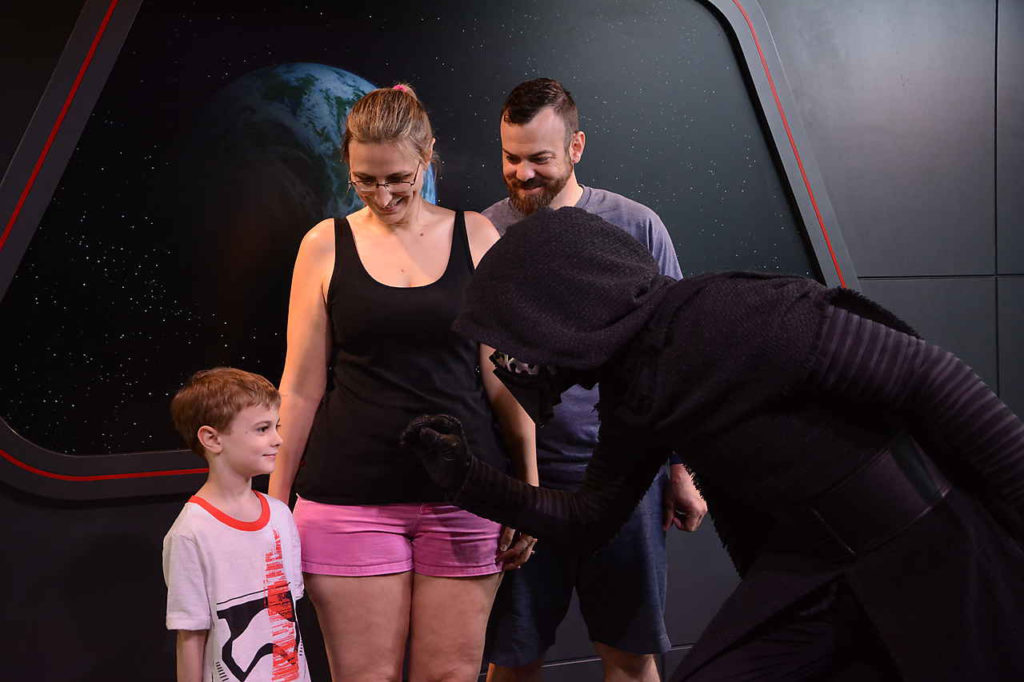 What about when we're not on vacation but need a break? Like after a long day of work? Try keeping a list of tasks in a journal or in Jira, Trello, Todoist, or whatever. The act of writing down your list of todos has always helped me feel less stressed. Perhaps the act of keeping all of my tasks straight is an unresolved task that my brain can't stop thinking about. Write them down and that's one task your brain doesn't have to keep obsessing over. Also, if you break those bigger tasks into a bunch of smaller tasks, you'll start crossing them off much faster and hopefully reliving some of your stress. Remember, your list of tasks will still be there for you tomorrow in your task list, so stop thinking about them for the evening.
Use Zeigarnik to your Advantage
As an alternative to letting go of your open tasks, you can use those open tasks to get them done. If you are a person who leaves things until the last minute before a deadline and want to break that routine, try starting the task right away, even if you don't finish it. According to the Zeigarnik effect, you should keep thinking about it until you complete it so you'll be incentivized to get it done and relieve that task tension.
Schedule breaks in your studying. Remember, that if you're in the middle of your studying and it isn't finished, taking a break doesn't mean that you're not still thinking about stuff. Breaks have been shown to help the learning process and organize thoughts. Have you ever been working very hard on a something and finally had to stop, only to have the answer magically pop into your head while you're doing something else? I know this happens to me all the time, so breaks don't mean you're weak, they're good for you and the process.
A Note to Employers/Managers
I know that we can't always help it, but you should know how this psychological phenomenon affects your employees. We learned from The Phoenix Project  that work in progress (WIP) is bad for production lines, IT development, and flows in general. But, knowing about the Zeigarnik effect, we also know that having too much work in progress affects your employee's stress levels. Difficult tasks, are one thing, but too many tasks at once may make your employees burn out or even quit to get rid of the task related tension. If you're trying to retain employees and improve employee satisfaction, limit your work in progress and you should have faster turnover times and happier employees.
Summary
Decrease your stress levels by managing your open task items. Complete them quickly, write them down, cross them off, or eliminate them to begin with to reduce your task based tension. Remember to also add tasks for things you plan to study. Do you know, Cloud, DevOps, Product A, Virtualization, containers, etc? Pick what you plan to learn and add those to your task list, don't leave them in your head.
When you aren't able to manage your own work in progress, try tricking your brain by engaging in activities that make you focus on another task for a while.
I know I'm not the first person to write about this effect but really hope to help someone else within our field to cut back on the stress levels. This post from Eric Lee got my attention and I think there is plenty of stress in our industry and I hope this helps you to reduce yours. Thanks for reading.