HP StoreOnce VSA
July 16, 2013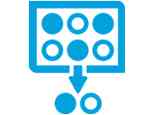 HP announced a new virtual storage appliance (VSA) recently at their annual HP Discover conference.  This is a virtual appliance based on the StoreOnce line (formerly known as D2D) of hardware appliances that HP has sold for a long time.  These appliances have the catalyst software which allows for deduplication of all your backup data, hence the term StoreOnce.
These devices have allowed administrators to switch from the older tape based backups to a virtual tape library (VTL) or a NAS type backup solution.  It has replication options in it which allow for deduplicated data to be migrated or copied without re-hydrating the backups and wasting valuable bandwidth.  It also allows for federated backups and when matched with HP Data Protector 8 (also newly released) can throttle bandwidth during backup operations in order to prevent production slow downs.
Obviously the coolest thing about this announcement is the fact that it's a virtual appliance meaning that you don't have to rackcoolcable any new devices and better yet, can continue to use some older storage appliances that you have lying around.  Do you have an older storage array that doesn't have replication capabilities but works just fine for storing data?  Maybe this is your new solution?
I've included some of the specs below from the StoreOnce Backup Datasheet, and am a little disappointed by the fact that it can handle 10TB of storage, but does it in 1TB virtual disk chucks.  I don't really want to have ten 1TB disks sitting around for my backup appliance, but I've heard of worse.
According to the HP folks I talked to at Discover, there should be a free 30 day trial coming out soon, much like their StoreVirtual VSA which is based on the P4000 series (Lefthand) storage that's been around for a while now.
From the HP StoreOnce Backup Datasheet 
HP StoreOnce VSA 10 TB Backup
Model differentiator Virtual appliance running vSphere 5.0 or later
Drive description Supported drives dependent on VMware environment
Drive type 0 included, (1) vDisk per TB of usable capacity supported
Capacity Supports up to 10 TB (configured in 1 TB increments) in a VMware virtual appliance
Transfer rate 500 GB/hr maximum supported; depending on VSA configuration
Deduplication HP StoreOnce deduplication
Storage expansion options Dependent on VMware environment
Host interface 1GbE vNIC (2) ports per controller minimum supported
Replication support Replication license included
Target for backup applications HP StoreOnce Catalyst, Virtual Tape Library and NAS (CIFS only)
Number of Virtual Tape Libraries and NAS Targets 4
Number of Virtual Tape Cartridges emulated 768 maximum, depending on VMware environment
Maximum number of source appliances 1
Form factor Dependent upon VMware environment
Warranty (parts-labor-onsite) HP warrants only