VMworld 2013 Recap
September 4, 2013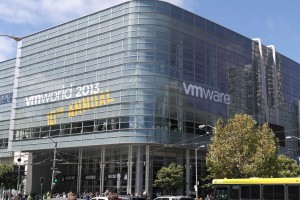 VMworld 2013 is now over and its time for a rundown of what went on during this years show.  As always, this is THE event that virtualization junkies must attend.
This year there was no shortage of things to do.  Keynotes, Hands on Labs, Solutions Exchange, VMware Education Services, Blogger hang out, parties, meetings and social gatherings.  I wear a Jawbone UP device that tracks my steps and it was not uncommon to hit 20,000 steps each day.  Reminders for anyone going next year, that comfortable footwear is a must.
Keynotes
The keynotes obviously super charged everything going on at VMworld.  The announcements about vSphere 5.5, NSX and VSAN were heavily talked about subjects.  NSX took over 2 of the "Ask the Experts" panel sessions that I went too, and the VMware NSX booth was always packed at the solutions Exchange.
Sessions
I didn't plan well enough ahead and wasn't able to get into any of the technical deep-dive sessions on NSX (shame on me) but had plenty of opportunities to sit at some really great sessions.  Industry experts (not all VMware employees) presented on a variety of subjects about how technology is changing, and how we can get the most out of what we're doing on a daily basis.
The top 10 sessions are listed below:
BCO5129 – Protection for All – vSphere Replication & SRM Technical Update
Speakers: Lee Dilworth, Ken Werneburg – VMware
STO5715-S – Software-defined Storage – The Next Phase in the Evolution of Enterprise Storage
Speakers: Vijay Ramachandran, Alberto Farronato – VMware
PHC5605-S – Everything You Want to Know About vCloud Hybrid Service – But Were Afraid to Ask.
Speakers: Mathew Lodge – VMware | Christopher Rence – Digital River, Inc
VCM7369-S – Uncovering the Hidden Truth in Log Data With vCenter Log Insight
Speakers: Tim Russell – NetApp | Manesh Kumar, Jon Herlocker – VMware
VAPP4679 – Software-Defined Datacenter Design Panel for Monster VM's: Taking the Technology to the Limits for High Utilisation, High Performance Workloads
Speakers: Frank Dennemean – Pernix Data | Andrew Mitchell, Mark Achtemichuck, Mostafa Khalil, Michael Webster – VMware
EUC7370-S – The Software-Defined Data Center Meets End User Computer
Speakers: Scott Davis, Frank Nydam, Mike Coleman – VMware
Speaker: Srinivas Nimmagadda, Anirban Sengupta – VMware
Solutions Exchange
This is the huge area where just about every vendor you can think of was out promoting their products and in many cases explaining how well they work with VMware vSphere.  I mean it's VMworld right?
VMware gives out awards to these companies based off of community buzz and their showing.  This year the following companies won the best of breed awards.
Category: Storage and Backup for Virtualized Environments
SimpliVity, OmniCube
Category: Security and Compliance for Virtualization
AFORE Solutions, CloudLink Secure VSA
Category: Virtualization Management
Eaton, Eaton Intelligent Power Manager 1.3
Category: Networking and Virtualization
PLUMgrid, PLUMgrid Platform
Category: Desktop Virtualization and End-User Computing
Lakeside Software, SysTrack Resolve 6.1
Category: Private Cloud Computing Technologies
Nutanix, NX-6270
Category: Public/Hybrid Cloud Computing Technologies
Embotics, vCommander 5.0
Category: New Technology 
Neverfail Group, Neverfail IT Continuity Architect
Category: Best of Show
Eaton, Eaton Intelligent Power Manager 1.3
Judges' Choice – recognition for a product not nominated for the Best of VMworld 2013 Awards
NVIDIA, NVIDIA GRID
Hands on Labs
In 2013 there were a few technical issues with the VMware Hands on Labs, but this year they seemed to be very smooth and fast.  I went to three sessions and walked right in each time.  No waiting.  Hats off to Doug Baer @dobaer (also known as Trevor) and the Technical Marketing team at VMware on a great job.  The labs should be available online to all attendees at a later date, but during the conference I know that more than 9000 labs and 80,000 virtual machines were deployed in the 5 days it ran.  Amazing.
VMware Education Services
VMware was allowing discounted certifications during the week so people were taking exams all week and trying to "level up" their qualifications.  Josh Andrews also ran a small area were attendees could test their metal against a VCAP-DCA question.  The fastest solutions were awarded with prizes.
My prize was a signed copy of the "VCDX Boot Camp", autographed by VCDX001 himself John Yani Arrasjid.
Social Gatherings
This was also a great time to get together with colleagues that you may not see face to face very often.  VMware threw a great party on Thursday night at the AT&T ballpark to unwind after a long week of learning.  Guest bands "Imagine Dragons" and "Train" performed and I think everyone had a great time.
Overall the conference was a great time, a great opportunity to network with peers, and a good chance to learn from industry experts.