QNIX Q2710 Monitor Review
September 15, 2014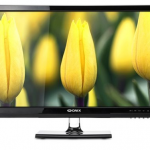 I just bought two new 27 inch (yeah, they're large) monitors for my home office thanks to a suggestion from Satyam Vaghani over twitter of course.  He pointed me towards the QNIX QX2710 monitor and I was first surprised with the price.  At less than $350 I had to give it a shot.  I mean really, who wouldn't want two 27 inch monitors on their desk?
The Good
The resolution was something I was really looking at.  I selected the 2560 X 1440 resolution so that I didn't feel like I needed to buy a new monitor in a year or two because something cooler came out.  I'd say at this point in time, a  1920 X 1080 resolution is fairly standard.  Also, with it being a much larger monitor than I've been accustomed to, the resolution needs to increase as well to provide a clear picture.
I know it's a small thing but the ability to tilt the monitor is nice.  Changing the angle at which you view the screen can really reduce strain when you're sitting at a desk for many hours at a time.
Another requirement I had was that it had to have a Vesa mount.  As of right now these behemoth's are just sitting on my office desk, but I hope to some day get a monitor stand and mount these.  I read some reviews and saw that some people were not happy with the quality of these mounts with this monitor, but I haven't tried this yet so can't comment.  Just be aware if this is a requirement for you.
It wasn't one of my requirements, but if I found a monitor I liked, I preferred to have an LED monitor over an LCD monitor.  Mainly for power consumption but to me, they have a better picture quality as well.  I understand there is some debate over this so you make your own decisions here.  The overall power consumption of the monitor is 43W at peak.
These monitors come with a refresh rate of 60 Hz which is a very standard refresh rate, but I did some looking and found that people were overclocking these monitors in upwards of 120 Hz with no problems.  Feeling a bit adventurous, but still the conservative person that I am I used the following article and overclocked the monitor to 96 Hz without issue.  (Yeah, I got skeered, but I didn't want to ruin the new monitors that i just payed good money for).  NOTE:  Be aware that overclocking your monitor will almost certainly void your warranty, so do this at your own risk.
QNIX also has a perfect pixel guarantee so you can be sure that if you have a burnt out pixel on delivery, they will fix or replace the monitor.  I've heard that actually going through this process is pretty painful, but both of my monitors arrived with 0 pixels being busted so I can't tell you for sure.
The Bad
Connections could be a problem.  The monitor came with a single DVI-D port on it so this limits your video card choices a bit.  Not only that, but using a standard DVI-D cable won't due, be sure to plug in the Dual DVI cables that come with the monitor.  In my haste, I attempted to reuse my older DVI-D cables that were already lying on my desk and I was not happy with the results.
Did I mention it takes up a lot of desk space?  Yeah, the best part is that these monitors are 27 inches.  The worst part is that, they are 27 inches.  Eh, I want my cake and eat it too, but if physical space is a concern, be careful buying these monitors.  One thing to consider is the depth of the desk you'll be putting these on.  You may need to scoot these things back just a bit or it will be like sitting in the front row of the movie theater.  If you've got a deep desk, this will be a plus for a large monitor like this one.
The monitor is pretty light for being as big as it is but with this light feeling, it also "feels" like the product may be a bit flimsy.  I want to be clear that I've had no problems with these things, and don't plan to be moving them around a whole lot, but I do get the impression that they are a bit fragile.
Response time may be an issue for your if you're a gamer.  The 6 ms response time is not great and you'll get some motion blur if you're shooting bad guys in "Call of Duty".  I'm usually not sensitive to this sort of thing, but I threw on my favorite shoot 'em up game just to see how it looked and I noticed the motion blur.  This may not be a big deal to you if the plans are to use this on your work machine.  I assure you that you won't see the motion blur with your spreadsheets.
Hollow Points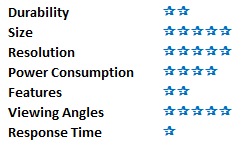 For the most part, I would say that this is a very good monitor for the price you can pay for it. If you're looking for more real estate for work purposes, this monitor will be great for you.  If you're looking to do gaming, maybe keep looking for a faster response time to eliminate motion blur.
I am very much enjoying my new monitors right now though and hope they prove to have some longevity.