Storage Field Day 6
November 3, 2014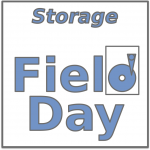 This week there will be another great TechFieldDay.com event, November 5th – 7th in Silicon Valley.  If you're not familiar with the Tech Field Days (and shame on you if this is the case), this is an event that brings together IT product vendors and independent bloggers to share thoughts and ideas.  This event specifically focuses on enterprise storage and data protection for both physical and virtual environments.  You guessed it, this one is called a Storage Field Day and it's the sixth SFD that the folks at GestaltIT have put together.
I highly recommend tuning in to the live feed over at techfieldday.com and listen to some of the vendors that have graciously brought us independent bloggers into their own offices to give us a glimpse at what they're working on.  It should be a great time.  I was lucky enough to attend the Virtualization Field Day 3 back in February and it was a great experience that I got to share with several delegates and companies that I've conversed with over social media in the past.  I have very high hopes for this event.
Here is a list of vendors that I hope will not let me down.  I expect them to be great.

If you want to follow along on twitter, check out the hashtag #SFD6 or follow our delegates.  Also, feel free to tweet your own questions to the #SFD6 group and someone will get your questions to the presenters.  It like an entire online community will be in the room.
Eric Shanks (Boy, I really hope you're already following this guy!) – @Eric_Shanks
Arjan Timmerman – @ArjanTim
Chin-Fah Heoh – @StorageGaga
Dan Frith – @PenguinPunk
Dennis Martin – @Demartek
Enrico Signoretti – @ESignoretti
Jarett Kulm – @JK47TheWeapon
John Obeto – @JohnObeto
Jon Klaus – @JonKlaus
Nigel Poulton – @NigelPoulton
Ray Lucchesi – @RayLucchesi
Scott Lowe – @OtherScottLowe  (OtherScottLowe in your twitter feed, but Scott Lowe in your hearts!)
DON'T Forget to add the master minds behind this event, Stephen Foskett, Tom Hollingsworth, and of course Claire Chaplais.
You can also watch the live stream right here, from theITHollow.com site, or the videos will all be available online after the event.