A Change of Scenery
September 30, 2019
So Long AHEAD
I have been fortunate to work for a fantastic company the past five and half years. While starting at AHEAD I had ambitions to be a top caliber VMware expert and work with people who would challenge me. Part of my decision to join the AHEAD team was to see how good I really was. AHEAD had plenty of talent and three VCDXs when I started and I needed to know how I stacked up. In the end, I think I did OK.
AHEAD provided me with a lot of opportunity for professional growth. When I started, I was configuring VMware SRM deployments and deploying VCE VBlocks. By the end of my tenure, I obtained two VCDX certifications of my own, helped to build an automation practice and become an expert in vRealize Automation, and later an Architect for Amazon Web Services. I led some of the largest consulting engagements in AHEAD's history and started taking on more responsibility in solution development.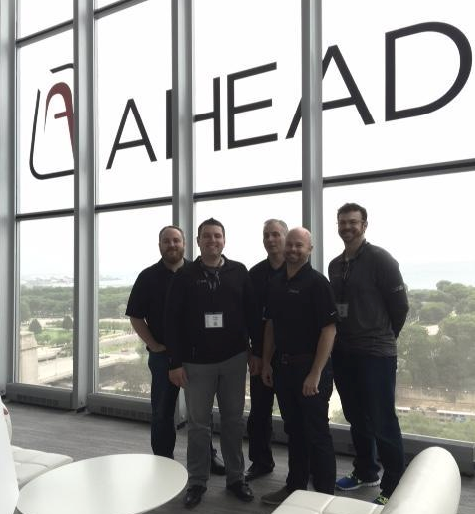 I truly value the time I spent at AHEAD and will miss the folks that I got to work with there on a daily basis. This was sincerely a great place to work and learn. To my former AHEADian employees, I would like to say thank you for the opportunity to work together.
Hello VMware
Based on my background, it probably doesn't surprise many people that I'm taking a position at VMware. Next week, I start a new position as a Senior Field Engineer – Cloud Native Applications.
I expect to put my experience with VMware virtualization, Cloud Management, and the consulting work I've done previously, and apply what I know to the growing interest in Kubernetes for VMware.
I have to tell you that I'm really excited for the new job opportunity. Much like when I joined AHEAD, I'm looking to join a group that consists of experts in their field. The team I'm joining not only works to help customers improve their Kubernetes environments, but is also actively involved in writing the Kubernetes open source code. The story seems similar to my last job change, where I've got my work cut out for me to see if I can hang with some of what I perceive to be, the best in the biz.
Thank You
Many of you have asked where I'm headed, and I apologize for not replying but I'm doing my best to take some time off between jobs and ignore social media. I really do thank you for all of your well wishes. I have received a lot of compliments and encouragement from people who have benefitted from my blog or videos over the past few years. Thank you for saying such nice things and I hope to do a lot more in the coming months around cloud native applications and the Kubernetes platform. I hope you stay with me on my journey.