Nimble Storage Data Analytics – InfoSight
November 10, 2014

It's hard to get too excited about a monitoring system,  especially one that's main focus is to notify a hardware vendor of a problem.  However, Nimble Storage has an impressive phone home solution called InfoSight that they are leveraging for more than just fault notifications and opening tickets on failed hardware.  This solution is being used for a variety of analytical purposes to both improve their product as well as improve the customer's experience with their array purchase.
Phone Home
Nothing too special here right?  It's nothing new for a storage array to phone home to send faults, but Nimble is sending additional telemetry data about workloads as well.  Nimble can take this data to help determine if there is enough solid state cache in the system for the array to function well.  Maybe this is selfish of Nimble to get this data, after all, their solution to fixing this "not enough cache" problem would likely be to sell you more SSDs but as a customer, don't you want this to be the case?  You'll be able to see this data in your InfoSight portal, and if you choose to give your preferred partner access to this data, they can help get you the hardware you need to fix it.
Alright, if that doesn't knock your socks off, then how about this.  Nimble is using the data from all of their customers who choose to enable phone home (about 94% of their install base) to proactively alert other customers of upcoming issues.  I've heard already of an issue that had happened with a particular workload on a certain firmware version that caused a problem with an array and after InfoSight collected it, Nimble was able to tell their customers that also had similar environments exactly when the array would start encountering problems.  That is pretty cool!
When it comes to firmware updates, Nimble Storage will use the telemetry data from your array and if any issues might affect your particular array, they will remove the version of firmware that could affect it from their support portal on a customer basis.  For instance, if you are on 2.0 and a 2.1 bug is identified for something your array is doing, you might only see an upgrade path from 2.0 to 2.2.   Also, on the topic of upgrades, Nimble mentioned to the delegates of Storage Field Day 6 that about 60% of their customers will run firmware upgrades to the array during the middle of the day.  With shocked looks on our faces we asked them to repeat that statistic and they held fast.  That's pretty amazing confidence in the array if that is true.  I'd love to see some hard statistics on this from their analytics engine.
All travel expenses and incidentals were paid for by Gestalt IT to attend Storage Field Day 6. This was the only compensation given.
Future Updates
Customers might not see an enormous gains from Nimble getting tons of performance data on all the arrays, but current customers will see future benefits because Nimble will have tons of information to improve the product for later releases.  Nimble Storage and their shareholders should be very happy about this data because they can improve their product to meet the demands their customers really need.  There won't need to be any guessing here.  InfoSight collects telemetry data every 5 minutes on all of their arrays by default and that data is loaded into their HP Vertica Analytics Engine for analysis.  (yes, they house all of this data on Nimble Storage Arrays and not some place in the cloud like Amazon.  They are eating their own dog food here.  In fact some of their arrays are named "Kibble" and "Bits".  So Clever).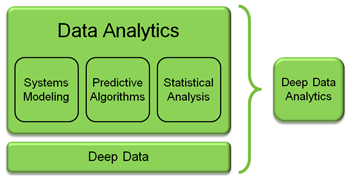 Cloud Solutions
OK, this is something brand new that Nimble Storage just announced and I love the idea, especially for small to medium businesses.  Nimble is now offering a "Storage On-Demand" solution which results in Nimble (or a partner) to install an array in your data center, but you only pay for the amount of space you use on it, on a monthly basis.  It's like having cloud storage, only in your own server racks!  This is only possible because of InfoSight reporting capabilities.  At the end of each month, Nimble Storage can send out a bill based on the data InfoSight has collected.  Nimble is really deploying an overprovisioned array to your site, but not making you pay for the wasted space that you didn't use.  There will be several tiers that you can get in such as Platinum, Gold and Silver, etc.  Where this correlates to the size of the controllers you need as well as the amount of SSD Cache you want.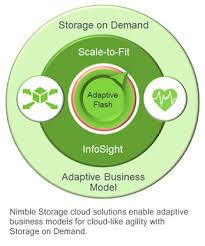 I think this is an amazing opportunity for small to medium business because of how difficult a large capital expense is to small companies.  In addition, these small shops without a dedicated SAN Administrator can really benefit from InfoSight telling them how their array is doing and when changes should be made to it.  This really could replace the need for an additional full time employee.
Nimble Storage should love this because it helps introduce the product to companies.  If the array really does what Nimble says it will, the customer is going to continue to pay for this service, and if they decide that Nimble isn't doing their job can drop the solution anytime after the first year.  Nimble will be forced to continue to innovate to keep these customers.
Minimum requirements to enter into the "Storage On-Demand" solution is a 40TB array and a 1 year contract.  After one year it will be month to month.  You should be lucky to find a cell phone contract with those terms.
Summary
Nimble Storage is obviously an array vendor and most of the time we only talk about how the array performs and why it's better or worse than other platforms.  But in this case Nimble has a very compelling value add to their solution that is worth a second look if you're deciding between them and one of their competitors.  To learn more about the solutions, check out the following articles from fellow Storage Field Day 6 Delegates:
Crowd-sourced Metrics and Automated Support Should Be Key Features In Your Next Storage Array – It's Good for the Business
Storage Field Day 6 Day 3 – Nimble Storage
Go Ahead – Update your Storage Operating System in the Middle of the Day