SRM 5.8 Recovery Plan
January 5, 2015
A recovery plan is the orchestration piece of Site Recovery Manager and likely the main reason for purchasing the product.  All of the setup that's been done prior to creating the recovery plans is necessary but the recovery plan is where magic happens.
When we go to the Recovery Plans menu in Site Recovery, we'll see the option to click the notepad with the "+" sign on it to create a new recovery plan.

Give the recovery plan a descriptive name.  Remember that you can create a recovery plan for individual protection groups, or multiple protection groups.  This allows you the opportunity to create individual recovery plans for things like "Mail Services", "Database Services", "DMZ", "File Servers" and then create a catch all named "Full Recovery" that includes all of the protection groups.  This allows for flexibility with whatever outage you're planning for.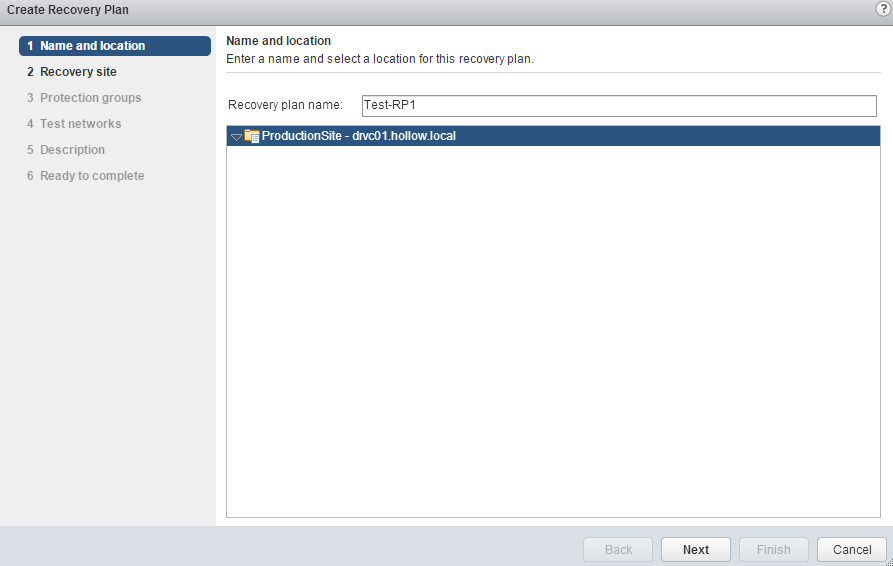 Choose which site is the recovery site and click Next.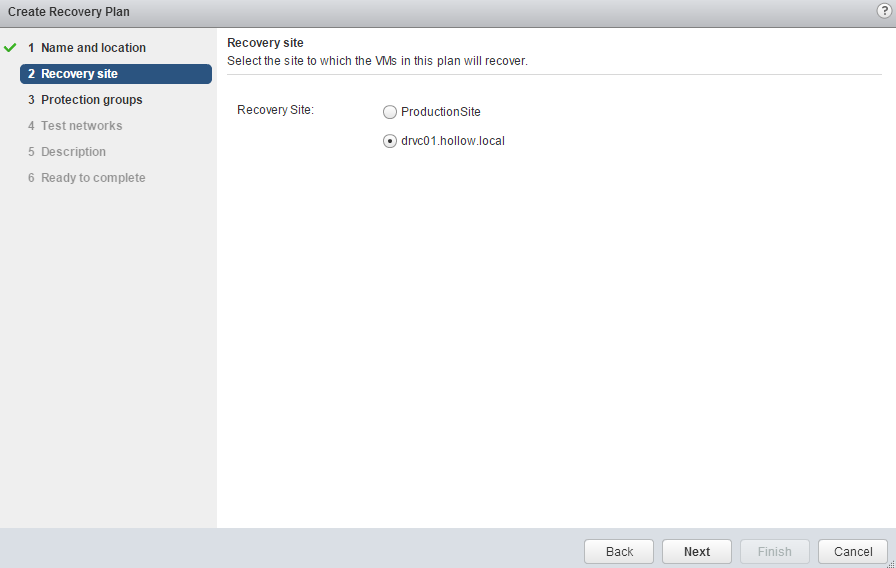 Select the Protection Groups that are part of this recovery plan.  In the example below, there is only one protection group, but you could select many if they are available.  Click Next.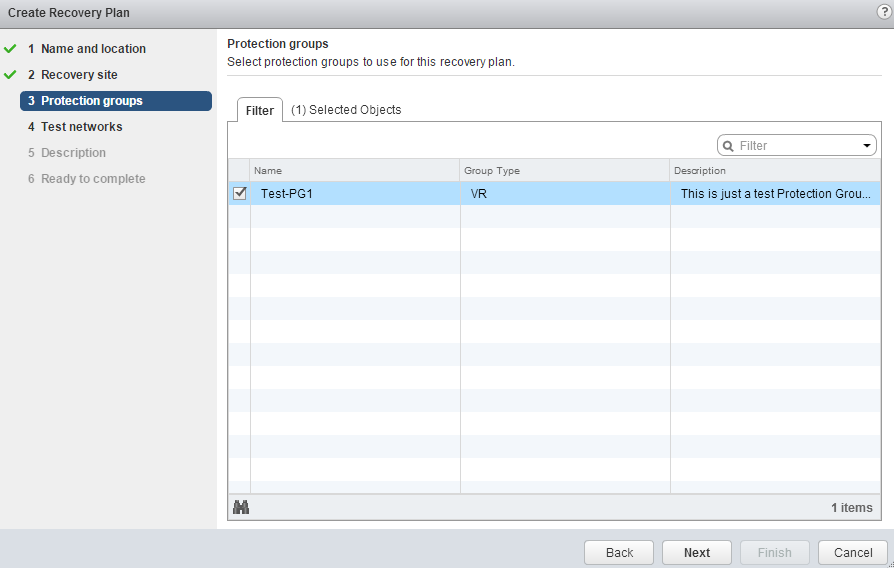 Select the test networks.  We've already created mapping for networking that should show handle what happens when a virtual machine fails over to the recovery site, but we need to configure what happens when we run a "TEST" recovery.  During a failover test, we may not want the VM to be on the same network as our production servers.  Leaving the "Isolated network (auto created) as the test network, allows us to create a virtual switch with no uplinks in order to ensure that the virtual machines won't be accessible via the network during a test.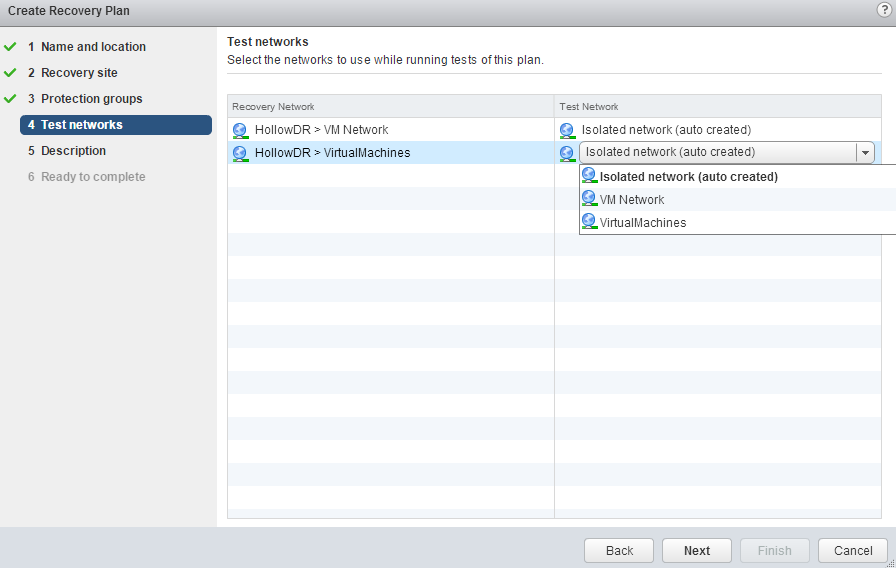 Give the recovery plan a description and click Next.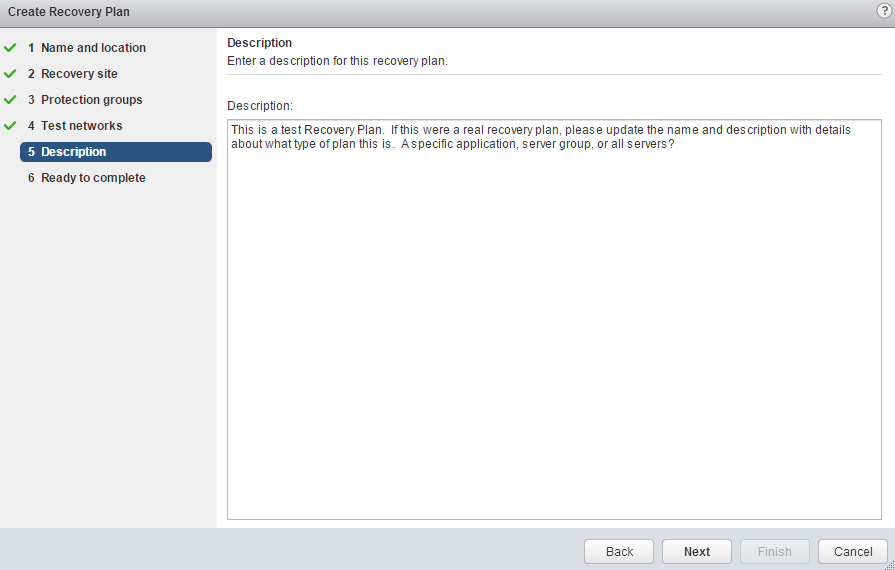 Review the settings and Click Finish.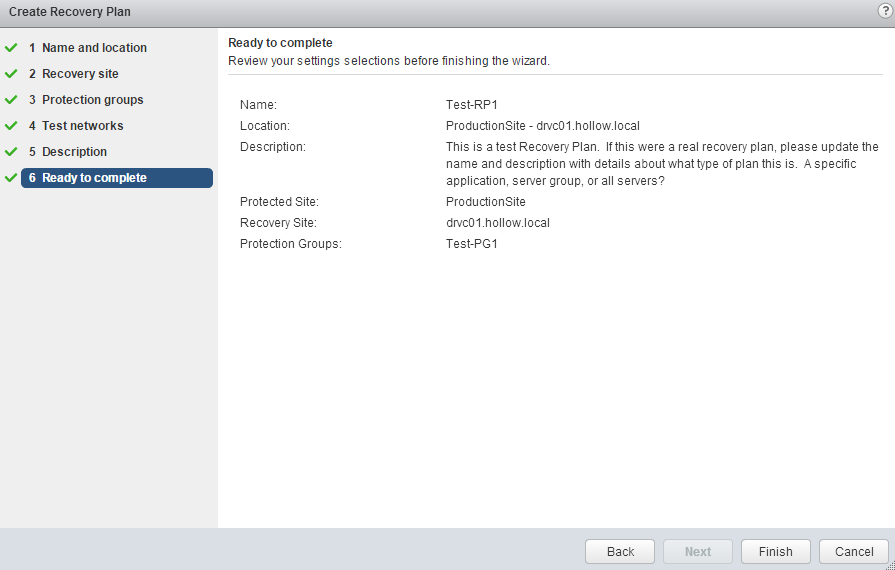 Once done, we can see that a Recovery Plan is available and we can run a test or a failover.

Summary
This is the basic layout of a recovery plan.  Most disaster recovery plans require a lot more customization than just powering on a virtual machine at another location.  In a follow-up post we'll review many more options that are available when setting up a recovery plan such as IP customization, power-on priorities and scripting.