Have VSAN? Want to run NFS on it? Check out Nexenta!
November 20, 2014
So you just bought VMware Virtual SAN and have stood up your site with some ESXi hosts.  When all of a sudden you realize that Virtual SAN is block based and you really needed file based storage.  OH NO!  What could we do to resolve this situation?
I appears as though Nexenta was looking out for this situation and developed a product called Nexenta Connect for VMware Virtual SAN and they presented it during Storage Field Day 6
All travel expenses and incidentals were paid for by Gestalt IT to attend Storage Field Day 6. This was the only compensation given..
I am personally of the belief that the use cases for this type of solution are minimal.  Maybe you've got servers in a non-VSAN cluster that need shared storage, and you want to present some from the pool you already have.  This would be a good reason to use Nexenta Connect.  However, from a high level perspective, I would really try not to buy a product like VMware VSAN and then buy a second product to put on top of it to make it work the way I want.  I would prefer to purchase an NFS product from the beginning if that was my end goal, or if I already had VSAN and needed some file services, I'd stand up a virtual machine as a file server.  But there are benefits to using a product like Nexenta Connect.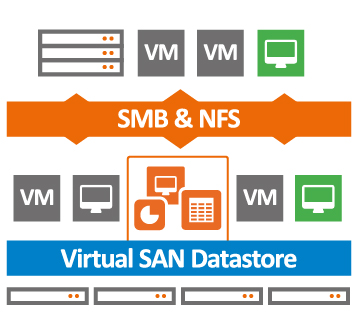 NexentaStor is a familar software product that can be used to take traditional x86 hardware and turn it into a fairly full featured SAN, with capabilities such as replication, compression, deduplication and snapshots.  One of the issues is that particular product is meant for a scale up approach.  So if I'm running out of capacity, I need to find a way to add more capacity to the server it's running on, maybe by adding a local shelf or by replacing drives with bigger ones.  What if I'm looking for a scale out solution?  Well VMware VSAN pretty much takes care of that for me.  So if I need more storage, I can add more hosts and add it to the global storage pool.  Once that is done, if I'm running Nexenta Connect on top of it, my underlying storage looks like it just scaled up and we're off to the races!
Nexenta Connect does have a list of features that are not available on VSAN as of yet, so there are some conceivable reasons why you might take this approach of using a product on a product.
Provides NFS v3v4 and SMB
Volume level snapshots
Volume level replication
Inline Data Dedupliation
Inline Data Compression
Summary
I still believe that there is a very small use case for this type of solution, but if you've already purchased VMware VSAN and need some extra capabilities, Nexenta Connect would be a very simple way to add to your existing solution to keep your business moving forward.  For more information please check out Nexenta's site at http://www.nexenta.com/products/nexentaconnect or check out the following articles related to the SFD6 presentation from Nexenta.
Storage Field Day 6 – Day 2 – Nexenta
Sorry Nexenta, but I don't get it…and questions arise