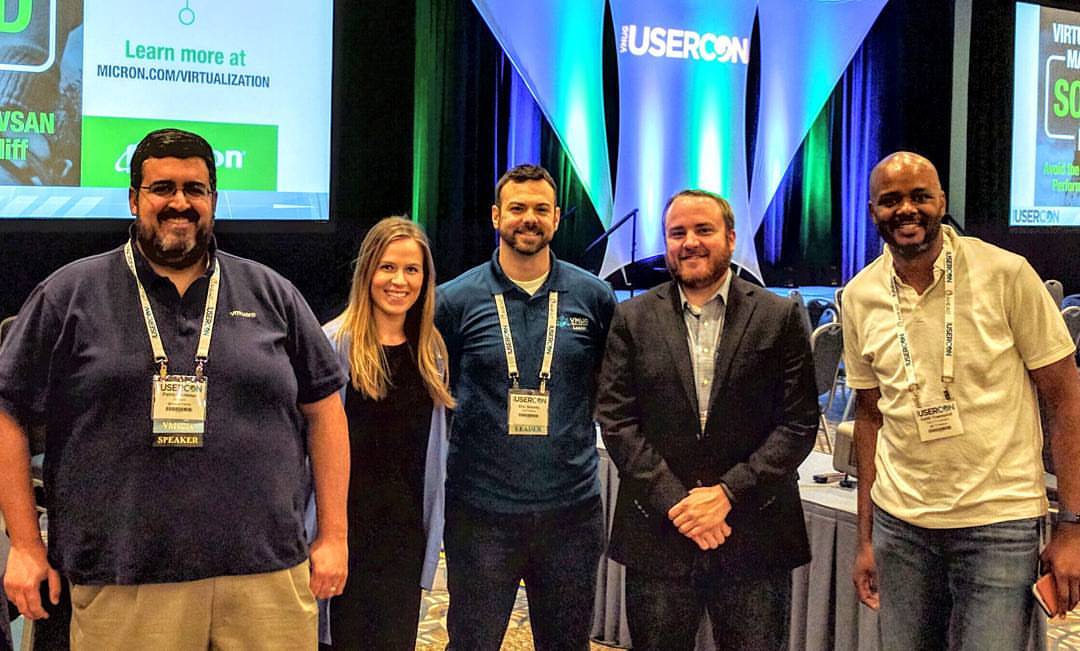 A Farewell to VMUG
September 26, 2016
The Chicago chapter of VMware Users Group had it's annual conference at the Rosemont Convention Center on Thursday of last week and it was again a success thanks in no small part to the VMUG corporate team. Over six hundred people walked through the doors to experience sponsored sessions, community sessions, keynotes from Kit Colbert and Phoummala Schmidt, as well as plenty of other fun things. This was the fourth official Chicago VMUG Conference that I've attended as a member of the leadership team. This was also my final event as a leader. Typically I use this blog as a place to post technical information but in this case I felt that it is important to reflect on the importance of what this group meant to me.
Out of my Comfort Zone
When I first started attending VMUGs I was a Systems Administrator for a collection agency and my day to day role was administering the virtualization environment. I attended my first event to learn more about the products and other ways the solutions could be used to help me with my job. What I found was a community of passionate people who were also trying to learn more to help their company, boost their career, and mingle with people who had similar interests. I remember some great presentations on products and vividly remember a session about the vCLI. There were some giveaways and lunch provided, it was great. Where else could I go to a free session to learn more stuff that I wouldn't get to see during my daily job activities? I knew then that I was signing up for the next event a few months later.
At the second meeting someone asked for volunteers to present on a topic. At first I kind of hid my face like the kid in school who didn't want the teacher to call on him/her, but soon I decided that I wanted to present. I knew some products pretty well and had spent plenty of hours working with VMware Site Recovery Manager, so why not? I nervously presented what my company had done at the next meeting and when I was done, I felt great about it. I came to find out that the people in the audience weren't the only people that were learning something from the presentation. I began to realize that preparing for speaking in front of a group made me learn the material much more in depth. No one wants to get up in front of people and tell them something that isn't true. It could be embarrassing if someone knows the real answer, and worse, someone might act on your information. So it turns out that I learned a lot about a product I thought I already knew very well, just by presenting on it.
Soon after the presentation, I was asked to volunteer and help out with the leadership team as part of the steering committee and later went on to be a full fledged leader. Why not, I had talents that I could leverage and just by speaking at my first meeting, I could already see some doors opening for my career.
Opening New Doors
VMUG itself isn't responsible for opening any new doors to my career, but it was the avenue that allowed me to take advantage of new opportunities. I started speaking at more meetings and at conferences and soon switched jobs and went into consulting. VMUG and my new job sort of fed off of each other and I was learning at an increased rate. All of this new information made me want to share it even more which made me focus more on my blog, and additional speaking events. I eventually spoke at some conferences in other parts of the country including Connecticut, Philadelphia and Indianapolis. These conferences had between 400-900 attendees so now I was speaking in front of a larger audience. It was a new level of fear, but each time I did one of these sessions I honed my craft and learned more about myself. The confidence I gained from these engagements helped me in my job, speaking with customers, and helping to feed my desire to share information with other users who might need a hand.
Eventually, I decided it was time to move my career forward and I went to work at AHEAD, here in Chicago. AHEAD was one of the top consulting companies and I knew I'd be thrown into a lot of new things that I didn't yet understand but I could gain a lot of knowledge in a short period of time. I knew in the back of my mind that a top tier certification might be achievable if I committed to embracing all of the things I might learn soon. The move over to AHEAD was a scary change since I had just bought a new house and I was making very good money at my previous job, but knew I needed to take a step back if I wanted to move forward with something more lasting. VMUG is one of the reasons that I took this chance on a new company.
People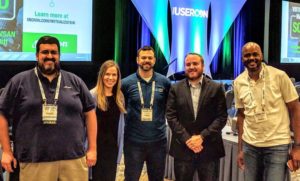 Knowledge is a great thing that comes out of the VMUG organization, but by far the most important thing that came out of my time as a VMUG Leader were the people. Through VMUG and transitively my move to AHEAD, I finally found a few select people that I would consider mentors which was something I previously had been lacking in my career. This is not to say that I had bad leaders, or dumb people that I had worked with before, but either directly or indirectly due to VMUG I met some people that were invested in my career development. I got encouragement and advice with my career, with my blog, with how I approached designs and found a great partner to attempt the VMware Certified Design Expert (VCDX) certification with. You gentleman know who you are, thank you for your support and encouragement.
The corporate team from VMUG made the meetings very simple to put together and made the leaders look much better than we probably deserved. I owe a special thanks to Andrea, Emily, Renee, Brandi, Abby, Colleen, Maria, Jean and many more whom I'm sure I've left out here. Thank you for your support and hard work over the years and I hope to see you again soon at some of your great events. Keep up the good work.
To the other Chicago VMUG Leaders that I've worked with, Chris Wahl, Jason Bertini, Patrick Benson, Adam Cavaliere, Brian Suhr, Justin Lauer and Neil Soderstrom; Thank you for the opportunity to work with you, to learn from you, and for the opportunity to share these wonderful experiences with you.
So long…